Slotland Unveils Yet Another New Video Poker Game, Giving $12 Freebie to Try New 'All American'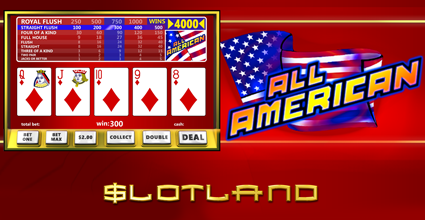 February 3, 2016 (Press Release) – Slotland players have been asking for some video games to go with the unique casino's collection of one-of-a-kind slot games. With the All American launching today -- its third new video poker game -- they're getting more than they asked for. Similar to Joker Wild and 10s or Better video poker which launched over the last few weeks, this new game has a Double Up feature for increasing wins.

This week there's a freebie and a deposit bonus to try it.

All American Casino Bonuses
All bonuses are available February 4 - 7, 2016 only.

$12 Freebie, bonus code: 12FREEBIE

70% Deposit Bonuses, bonus code: TRYME
Available for deposits of $25-$300 (redeem once only)

Up to 50% Deposit Bonus, bonus code: PLAYPOKER
20% bonus for deposits of $25-$49, 30% for deposits of $50 - $99 and 50% added to deposits of $100 - $199. May be used up to 6X per day.

<iframe class="tscplayer_inline" name="tsc_player" src="http://www.lyceummedia.com/streak/160204/160204_player.html" width="640" height="360" scrolling="no" frameborder="0" webkitallowfullscreen mozallowfullscreen allowfullscreen></iframe>

Decked out in patriotic stars and stripes, All American is a single hand video poker game, played with 52 cards. It uses standard poker hand ranking with a higher payout for the Straight Flush, Straight and Flush winning hands and top payouts for a Natural Royal Flush. Players are dealt five cards and can then hold up to five of them before drawing new cards. After a winning hand they can take their winnings and continue playing, or play the Double Up round where they can double their win by picking a hard higher than the dealer's.

"Video poker is an easy game to play and it moves along quite quickly," said Michael Hilary, the manager of Slotland. "Lots of slots players like to switch it up a bit and play a few hands of video poker now and again so we're really pleased to have several for them to choose from now."

One of the very first to offer real money online slots Slotland, which recently celebrated its 17th anniversary, now has 38 unique casino games. Another new video poker game is expected to launch within the next few weeks. Most of Slotland's premium slot games are tied to one site-wide progressive jackpot which is currently approaching $150,000 and due for a win.

​