September is the official Glitz and Glamour month Uptown!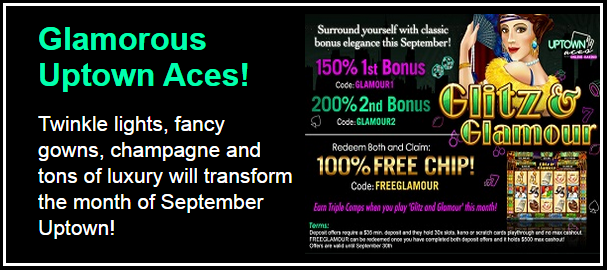 Uptown Aces invites you to welcome September with a storm of Glitz and Glamour
bonuses when you make a deposit of as little as $35!

Start your month by collecting a 1st 150% match, followed by a 2nd 200% bonus and top off
your fun with a $100 Free Chip for having redeemed both offers!

[TABLE="class: grid, width: 500, align: center"]
<tbody>[TR]
[TD]Deposit [/TD]
[TD]Get [/TD]
[TD]Coupon Code[/TD]
[/TR]
[TR]
[TD]$35+[/TD]
[TD]150% 1st Bonus[/TD]
[TD]GLAMOUR1[/TD]
[/TR]
[TR]
[TD]$35+[/TD]
[TD]200% 2nd Bonus [/TD]
[TD]GLAMOUR2[/TD]
[/TR]
[TR]
[TD](Redeem above )[/TD]
[TD]$100 Free Token![/TD]
[TD]FREEGLAMOUR[/TD]
[/TR]
</tbody>[/TABLE]


Uptown Aces Casino is powered by Real Time Gaming Software and accepts New US Players!



​