Rise to the top by any bonus necessary.
The Throne of Games is without a ruler and the race to supremacy is on. Conquer the incumbent clans with your deposits and wagers to earn your seat on the throne. When the battles are over and the dust settled, one player will be crowned, awarded an amazing $2,000 from the $10,000 prize pool, and attain the right to sit on the Throne of Games.

Each of the five clans represent land you'll need to conquer by any bonus necessary. Head over to the casino to play all your favourite games. This is when you cry havoc and let slip the dogs of war.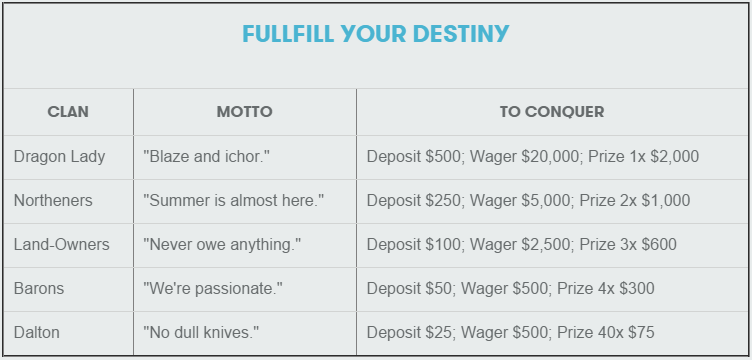 Bear in mind that conquering a stronger clan will make you eligible for prizes also from the weaker ones. What will your legacy be? Will you conquer all five lands? There's only room on the Throne of Games for one ruler.


Intercasino is powered by Aristocrat, Amaya, Betsoft, Cryptologic and other softwares.



​
Last edited: