Winter Wishlist - Win M&S Vouchers, Game Consoles & Gadgets At Bet365 Bingo!
Play in Bet365 Bingo's exclusive Gifts Galore room from 30th November until
20th December for a chance to win a selection of fantastic prizes in weekly All-Winners Finale games.

Get one ticket to that week's finale for every one-line, two-line and Full House win in Winter Wishlist games.

These run from 11:00 until 12:00, 15:30 until 17:30, and 20:30 until 22:30 UK Time Monday to Saturday.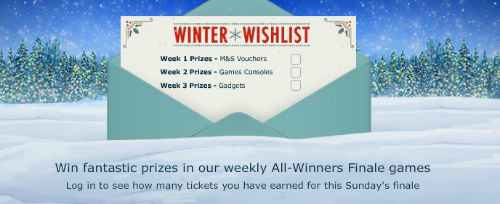 Then join us the following Sunday at 21:00 UK Time to play all your tickets in the
All-Winners Finale game and go for a wide range of top prizes or your share of the £500 Community Jackpot.

Please read full terms and conditions here!

Check out our Online Bingo for more offers
​


<A href="http://imstore.bet365affiliates.com/Tracker.aspx?AffiliateId=16978&AffiliateCode=365_027579&CID=149&DID=5&TID=1&PID=136&LNG=1" target="_blank"><img src="http://imstore.bet365affiliates.com/?AffiliateCode=365_027579&CID=149&DID=5&TID=1&PID=136&LNG=1" border="0" ></A>
​
Last edited: