Win Your Share Of £1,600 Love2Shop Vouchers At bet365 Bingo!!
Go for a share of £1,600 in Love2shop Vouchers at Bet365 Bingo

Win £50, £100 or £250 in Love2shop Vouchers each week in our All-Winners Finale games or a share of the £250 Community Jackpot.

Earn free finale tickets from 2nd until 28th January in our exclusive Gifts Galore room. You'll get a ticket for every one-line, two-line and Full House win in our Price Tag games which run from 11:00 until 12:00, 15:30 until 17:30 and 20:30 until 22:30 UK Time Saturday to Thursday.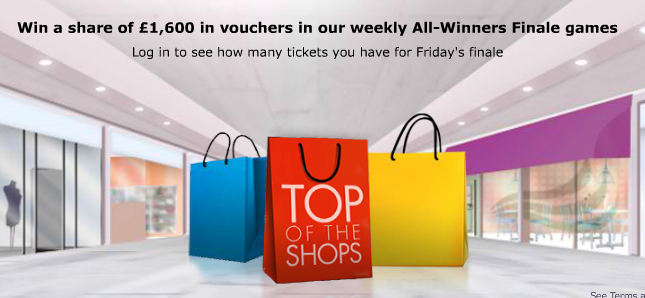 Then, join us for the All-Winners Finale game in the same room each Friday at 21:00 UK Time to play all your free tickets or alternatively you can buy your tickets in advance for £1 from the schedule. You could win up to £400 in Love2shop Vouchers or a share of the £250 Community Jackpot!

Significant Offer Terms and Conditions

•Promotional period runs from 11:00 UK Time on 2nd January until 21:00 UK Time on 29th January 2016.

•You can earn one free ticket to the All-Winners Finale games for every one-line, two-line and Full House win in our Price Tag games, which run from Saturday until Thursday in the Gifts Galore room. Alternatively you can purchase tickets for £1 from the schedule. The maximum number of tickets you can collect each week is 36. Tickets must be used in that week's finale game.

Please read full terms and conditions here!

Check out our Online Bingo for more offers
​


<A href="http://imstore.bet365affiliates.com/Tracker.aspx?AffiliateId=16978&AffiliateCode=365_027579&CID=149&DID=5&TID=1&PID=136&LNG=1" target="_blank"><img src="http://imstore.bet365affiliates.com/?AffiliateCode=365_027579&CID=149&DID=5&TID=1&PID=136&LNG=1" border="0" ></A>
​