Liberty Slots Player Will Treat Himself to NBA Tickets after $46K Win on 'Money Shot' Basketball Slot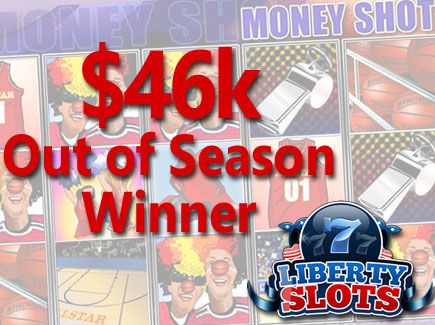 August 31, 2016 (Press Release) – Basketball may be the last thing most people are thinking about in the middle of summer but August will always remind one Liberty Slots Casino player of hoops after he won $46,000 on Money Shot, a popular basketball-themed slot game from WGS.

"I started playing around 9AM. Mostly because I was kind of bored, I had a fun weekend and really didn't feel like doing anything too complicated," laughed Jason S. on the phone from his home in California.

"It's been so hot here, I actually started playing this game called Winter Wonderland just to see if it would cool me down! I did OK, but then I started playing this basketball game, Money Shot. There's a bonus game where you get to make free-throws and, for some reason, unlike in real life, my shots were going in!"

Jason started with a modest $10 wager across the game's 20 pay-lines but, as the wins started piling up, he started to risk more.

"I figured once I had about three thousand it wasn't my money anymore so let's have some fun, so I went for it, max bet, $200 a spin!"

<iframe class="tscplayer_inline" name="tsc_player" src="https://secure1.securewebexchange.com/lyceummedia.com/streak/160831/160831_player.html" width="640" height="360" scrolling="no" frameborder="0" webkitallowfullscreen mozallowfullscreen allowfullscreen></iframe>

It wasn't long before Jason hit three scatter symbols which triggered fifteen free-spins where all wins are tripled. One free spin won $22,000 and several more after that paid several thousand each. He benched himself with a closing balance in excess of $45,000.

"I'll be putting this to good use, there are some things I need for the house but I may treat myself to some NBA tickets for the upcoming season".

"We should have left Jason on the bench today," joked Mark Ramirez, casino manager at Liberty Slots, "Seriously though, congratulations to him. He played the game very well and it was a smart move, picking a game out of season you can get very lucky".


​