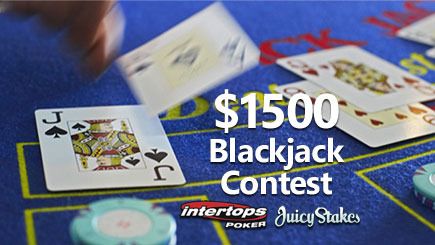 January 7, 2016— St. Johns, Antigua (Press Release) – Hitting twenty-one in Blackjack always feels good and this month Intertops Poker and Juicy Stakes Poker, the two leading poker rooms on the Revolution Poker Network, are making it even sweeter. In addition to Texas Hold'em and Omaha, both poker rooms also offer a few casino games including several Blackjack variants. Until January 14th, Blackjack players will earn points for hitting 21 and the 30 players with the most points will split $1500 in prize money.

A Natural Blackjack (Ace with 10, Jack, Queen or King of any suit) earns one point per dollar bet. All Hearts, Diamonds or Clubs wins 5 points and all Spades is worth 20 points per dollar. A Big Suite 21 (Ace, 2, 3, 4, 5, 6 in any order) wins 500 points for every dollar bet.

<iframe class="tscplayer_inline" name="tsc_player" src="http://www.lyceummedia.com/streak/160107-2/160107-2_player.html" width="640" height="360" scrolling="no" frameborder="0" webkitallowfullscreen mozallowfullscreen allowfullscreen></iframe>

Players can choose from four games: Blackjack, Face Up 21, Double Draw and Perfect Pair. (Games in Intertops' main casino are excluded.)

Details are available at: Blackjack Leaderboard and Blackjack leaderboard - Intertops Poker.

Juicy Stakes Poker and Intertops Poker attract players at all skill levels, from all over the world. They've also gained a reputation for sending online satellite tournament champions to exciting live poker tournament events. Last fall, online winners went to the Caribbean and the winner of upcoming tournaments will win their way to the CAPT Seefeld Main Event in Austria next month. Intertops and Juicy Stakes tournament winners share their experiences on the Living the Dream poker blog (Living the Dream).

Check out our Online Poker site for more.
<!-- Affiliate Code Do NOT Modify--><a href="http://affiliate.intertops.com/processing/clickthrgh.asp?btag=a_48b_3022" ><img src="http://affiliate.intertops.com/processing/impressions.asp?btag=a_48b_3022" alt="26-Day Endurance Challenge at Intertops!" style="border:none; width:468px; height:60px; "/></a><!-- End affiliate Code-->
<a href="http://www.juicystakes.eu/?t=29646&Lang=en"><img style="border: none;" src="http://affiliates.juicystakes.eu/Server/Banner.ashx?i=ban_pk_js_468x60.gif&t=bonustreak" alt="Deposit Bonus 200% up to $1000"/></a>
​