Everyday Superheroes Promotion at Lucky247 Casino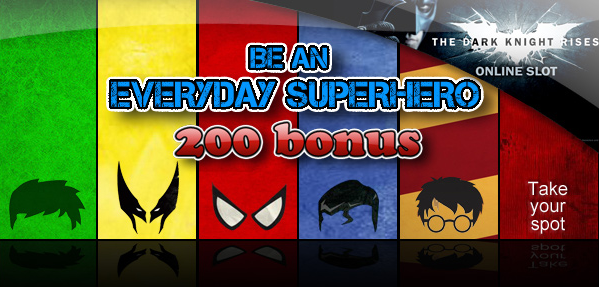 While we're waiting for the new Batman themed The Dark Knight Rises™ online slot we have a something to help get you in the super spirit – 200 Bonus!

Most superheroes have two identities; their masked and regular selves. Batman is Bruce Wayne, just as much as Bruce Wayne is Batman! So show us your everyday superhero style…maybe you're doing the laundry, taking a run or having a bite to eat.

To whisk off your share in 200 Bonus, all you have to do is email the support centre with a photo of yourself wearing a superhero mask doing something ordinary. Then we'll put all your photos into a draw and release the winners on our Facebook Page! And not to worry, like a real superhero your true identity is a secret behind your mask.

But make sure you're faster than a speeding bullet because this fun promotion is only from 22-29 August 2013!
Terms and Conditions:

Only valid players at Lucky247 casino with an active account in good standing and are eligible for the promotion.This promotion is subject to the General Terms and Conditions of the Casino in particular point 8.2 as well as the promotional terms of the CasinoA player/person may only receive this promotional offer once per their casino account registered.The promotional offer is only open to persons over the age of 18 and to persons in jurisdictions where interactive gambling is legal.Any player who is or requested to be self-excluded, or who falls into the category of excluded players, is expressly prohibited from participating in this promotion.All percentage match bonuses issued during this promotion are subject to promotional terms and conditions of the Casino and cannot be accumulated over the course of the promotion.The promotional period will run from 22 August 2013 00:00 GMT to the 29 August 2013 23:59:59 GMTDuring the promotional period between 22-29 August 2013, qualifying players that email a superhero photo to the support centre will be entered into a draw. 20 players will be randomly selected during the promotional period and will be contacted and credited on 30 July 2013 for a share of 200 casino credits.If the players' account associated to the winning is invalid for any reason, a new ticket will be drawn until such time as a valid account is verified.The Casino will make every attempt to notify the winner/s. However after 7 days the Casino reserves the right to void the initial draw and a conduct another draw.The winning player/s will be contacted telephonically and via email.All decisions are final and binding and no correspondence or appeals will be entered into.Any person transgressing the rules of this promotion will be disqualified.In the event of technical failure or damage to the device used for the promotional draw, irrespective of the cause, another suitable device or method will be used, at the sole discretion of Management.Every participant in the competition shall be deemed to have acknowledged and accepted the rules by virtue of their participation.

Lucky247 Casino
is powered by
Microgaming Software
Click here fore more
New Casino Bonus Offers
.