Dealers Got Nice Tips After Intertops Casino Player's $300K Winning Streak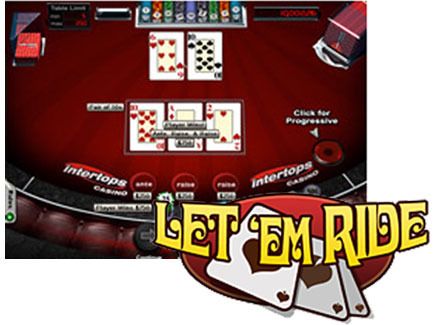 September 15, 2015 -- St. Johns, Antigua (Press Release) – An Intertops Casino player had an incredible lucky streak the other night when he won $120K playing Let 'Em Ride and then over $182K on a network progressive, making a total of over $300K.

Donovan A., 30, said he plans to buy a place in Las Vegas with his winnings. He enjoys slots and plays them a lot online and in the local casino. He said he doesn't actually play Let 'Em Ride a lot so winning on the poker-based game was pure luck.

"I've played it enough to know how it works, but it definitely was just a lucky win," he told an Intertops Casino customer service rep.

Let 'Em Ride is a simple game where players are paid based on their five-card hand. There is no dealer hand to compete with.

"I knew it was coming when I saw the first three cards," Donovan recalled. "I jumped out of my chair! Later I went to the casino to celebrate with champagne and tip some dealers."

<iframe class="tscplayer_inline" name="tsc_player" src="http://www.lyceummedia.com/streak/150915/150915_player.html" width="640" height="360" scrolling="no" frameborder="0" webkitallowfullscreen mozallowfullscreen allowfullscreen></iframe>

Donovan enjoys playing in the local casino but thinks the odds are better online: "I like casinos because of the excitement, but I prefer online casinos because the odds are better for both casino and sportsbook."

Intertops Casino's $150,000 Oktoberfest casino bonus Event continues until October 5. Players earn points when they play and get bonuses based on their scoreboard ranking. Every Monday until October 5 a total of $30,000 in Oktoberfest bonuses will be paid to the top 300 players. The top twenty players each week will be entered in a final $1000 cash prize draw.

Intertops Casino is the world's most trusted online casino, offering hundreds of slots and table games from Realtime Gaming. Players can use the same wallet for poker and Sports Betting.

<!-- Affiliate Code Do NOT Modify-->
<!-- End affiliate Code-->
​