A Lincoln Casino Player got Quite a Birthday Present When She Hit $50K Jackpot on 'Win Place or Show' Slot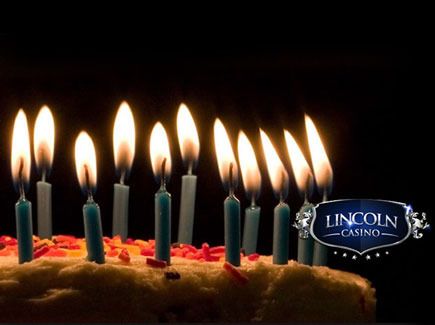 September 2, 2015, Willemstad, Curacao (Press Release) -- A Lincoln Casino player took a little time out from her birthday celebrations the other night to have some fun playing slots. She ended up winning over $50,000 on the three-reel horseracing-themed slot, Win Place or Show.

Laura D had just signed up at Lincoln Casino. On her first visit so she wandered around the casino at first, browsing the hundeds of games from WGS that it offers. She tried a few games but then settled in on the Win Place or Show slot.

She started off playing with two coins but when she won $5.00 she decided to increase to the maximum of three coins. On her second spin she got three Gold Cup symbols on the payline and won the accumulated progressive jackpot of $51,789.

<iframe class="tscplayer_inline" name="tsc_player" src="http://www.lyceummedia.com/streak/150902-2/150902-2_player.html"; width="640" height="360" scrolling="no" frameborder="0" webkitallowfullscreen mozallowfullscreen allowfullscreen></iframe>

"I'm surprised the neighbours haven't complained,&#8221; the excited winner told a Lincoln Casino customer service representative. &#8220;It was quite late at night and my scream of delight once I realized what had happened must have woken up half the neighborhood. I can't imagine what they must have thought!"

"I&#8217;m going to put a lump sum on the mortgage,&#8221; she said. &#8220;And pay for a trip for my husband and I, maybe Hawaii!"

"Win, Place or Show? I&#8217;ll take Win anyday!&#8221; laughed Lincoln Casino manager Ryan Wilson. &#8220;We&#8217;re delighted for Laura. I'm sure she'll remember this birthday for many years to come!"

Win Place or Show is just one of the jackpot games at Lincoln Casino. Mega-Money Mine, Pay Dirt and Red, White and Win also have progressive jackpots waiting to be won.

Lincoln Casino welcomes players from around the world. Its most popular games are also available in its new Mobile Casino including Cleopatra&#8217;s Pyramid and the new Cool Bananas mobile slot games.

​