$100,000 Hit The Road Promotion At Jackpot Capital Casino.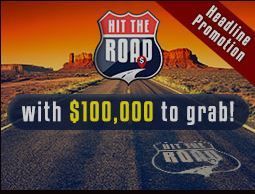 Jackpot Capital Casino is off for a Thelma and Louise adventure across the country.

Fill your tank and hunt out the green this summer -- up to $100,000 of it. Dotted across the map is cash stashed in the USA's most impressive sightseeing spots. The more you see as you Hit the Road, the higher up the Summer Scoreboard you'll shift, and the more you'll enjoy every Monday.

So forget your GPS, go old-school and map your road to riches.





Stick-shift up the Summer Scoreboard for $65,000 of souvenirs

Drive up the Summer Scoreboard to dip into the $13,000 road fund each week. The more of your favorite Jackpot Capital games you play, the further up the scoreboard you head, so the more of the weekly $13,000 prize draw you'll get your hands on.

Step right this way for $25,000 of the random draw!

Go on, take that road off to the left, head down along that path, stop for a picnic. You never know what you'll find as you Hit the Road and abandon your cares on the country's backroads.

Wind your way from sight to sight, from game to game, and you never know when you'll stumble across something wonderful -- a deposit bonus here, a cash prize there.


Deposit and play your favorite online casino games

How to qualify:

Deposit at least $100 per week
You only need 5 scoreboard points per week
At least 1 point must come from bets placed

How to earn points:

Deposit: Earn 1 point for every $20 deposited each week during the promotion.
Play! Earn 1 point for every $500 in bets placed.


Jackpot Capital Casino is powered by RTG Software.

Check out more New Casino Bonus Offers

​