Our Loyalty program is simple and easy to understand. All you need to do is register and start playing. When registering at Whitebet, you will automatically be added to our Loyalty program and start receiving CashBack! In the beginning of each month, you will receive your CashBack in the form of a cash deposit on your account. The size of the CashBack will be determine by your current Level and the amount of Player Points you have earned the last month.

There are five monthly levels and three yearly levels. Each time you enter a real money tournament or play in a real money cash game, you will receive Player Points depending on how much you contribute to the rake. The more you earn, the higher your level will be next month.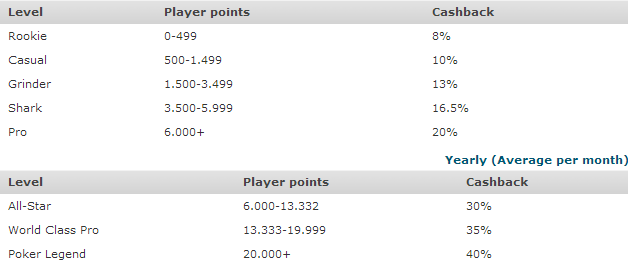 Poker points are accumulated by playing cash games and tournaments. Cash game points are awarded to players at a rate of 3.60 for each dollar of rake an individual player contributes to a pot e.g If you contribute 40% to a pot that is raked at $3 you will receive 4,32 points (3 × 40% × 3.60 = 4,32).

Your share of the awarded points will then be adjusted based on the internal strength relationship between players in that hand. If you take on more experienced opposition you can expect to collect slightly more points and slightly less points if you take on less experienced players. For tournaments, points are awarded at a rate of 3,6 poker points for each $1 of tournament entry fee paid.

Visit Streak Online Poker for more online poker bonuses!
​