We're giving away 13 prizes on Friday 13 Feb, Friday 13 March and Friday 13 November.
Meet the criteria leading up to each day and you'll stand a chance of winning one of the 39 prizes we've set aside for all 3 days.
SCORE BIG. SCORE 13. SCORE WITH VEGAS2WEB!
WHAT CAN I WIN AND HOW?
We're sure you're going to want all the information on how you can land these fantastic prizes so, here it is!
NOVEMBER 13, THE FINALE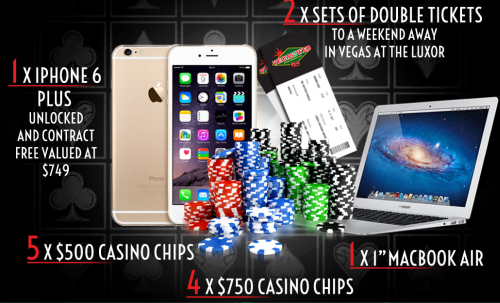 WHAT DO I HAVE TO DO?
Deposit $1000 or more between 13 March and 12 November , 2015 and you'll be entered into a lucky draw and stand to win one of the grand prizes above.
All winners will be emailed on November 13, 2015 following the draw on that day.
Vegas2Web Casino
is powered by
Rival Software
<!--Advertisement Code - Please do not modify -->
<a href="http://get.vegas2web.com/get/a/1292979"><img src="http://get.vegas2web.com/get/i/1292979" border="0" width="468" height="60"></a>
<!--End of Advertisement Code-->​
Last edited: