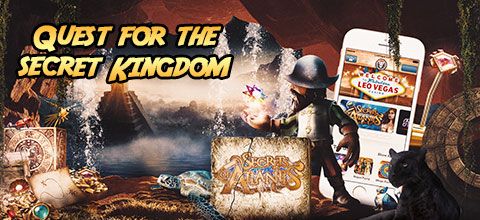 Locate the temple with 1 200 000 kr in treasure!

Throw your satchel over your shoulder, hold on to your hat and crack your whip to start your adventure of fun in locating the legendary LeoVegas Secret Kingdom that's filled with over 1200000 kr in treasures!

Start with the Secrets of Atlantis

It's no secret that LeoVegas brings you all the latest releases filled with fun – FIRST!

We are celebrating another first, with the Grand Premiere of the Secrets of Atlantis - join us on an exhilarating treasure hunt to discover riches and treasures far beyond your wildest dreams!


It's time to loot LeoVegas!

Your adventure begins on the 25th August and will last all the way through until the 22nd September – giving you plenty of time to locate all the loot inside the LeoVegas temple!

Locate the time to enter the LeoVegas temple and climb up the weekly leaderboards to fill everything you have with a share of the golden 1 200 000 kr in prizes – load up your pockets, satchel and even your hat if you have to!

Leaderboard 1: 25 - 31st August 2016
Leaderboard 2: 1 - 7th September 2016
Leaderboard 3: 8 - 14th September 2016
Leaderboard 4: 15 – 21st September 2016

No booby traps only bonus points!

Every 100 kr you deposit and play through on selected quest games will give you a point onto the leaderboard taking you a step closer to the treasure room top prize of 50 000 kr in golden cash - there's no snakes, we promise!

Spin through the temple the smart way – with extra points:

Selected quest desktop games: 1 point
Selected quest mobile games: 2 points
Weekend quest play: double points on both desktop and mobile

No snakes - only spins and wins!

Secrets of Atlantis
Dazzle Me
Starburst
Gonzo's Quest
Nirvana
Treasure Island
Vikings Go Wild
Mr Holmes and The Stolen Stones

Lost Treasure Games

Prize Structure:

The top 50 raiders who successfully manage their way through the tunnels will take their share of the 200 000 kr in the treasure, fortune and golden glory!

1st: 50 000 kr
2nd: 30000 kr
3rd: 25 000 kr
4th: 20 000 kr
5th: 10 000 kr
6th: 8000 kr
7th: 7000 kr
8th: 5000 kr
9th: 3000 kr
10 – 20th: 2000 kr
21 – 30th: 1000 kr
31 – 50th: 500 kr

X Marks the spot, or does it?

When we said it was a temple full to the brim of treasure – we meant it!

Not only can you navigate your way to a share of 1 200 000 kr in cash but you can also locate extra loot by keeping your eyes peeled – each day we will be giving away extra goodies on certain games including free bets, free spins, cash and an array of Apple products.

Three randomly selected games from the Quest for Secret Kingdom list will suddenly get a secret message added underneath the game description – it could be a straight forward give away, or you might need to follow the instructions to avoid the booby traps and take home extra treasure!

The quest continues...

Every 100 kr you deposit and play through on selected quest games will also give you an automatic entry into the 100 000 kr final prize draw!

We will randomly draw out 20 names from the punch bowl on the Celebrity Blackjack Party table inside the exclusive Chambre Separee at 6pm, on Thursday 22nd September.

If your name is pulled out of the bowl, you will watch as the host opens a treasure chest to uncover your cash prize inside!

1st: 50 000 kr
2 – 5th: 7500 kr
6 – 9th: 2500 kr
10 – 14th: 1500 kr
15 – 20th: 500 kr

Don't follow the treasure map – follow the fun to fortune and glory by locating the lost treasure at LeoVegas!

Check more online mobile gaming casinos.
​
Last edited: