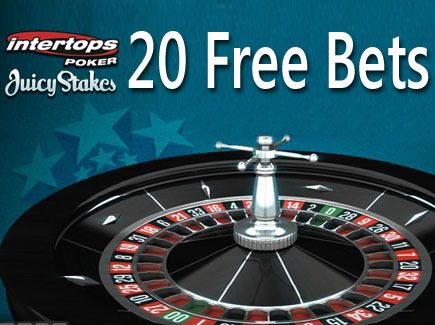 September 8, 2015 — St. Johns, Antigua (Press Release) – To introduce poker players to the suite of casino games within their poker rooms, this month Juicy Stakes and Intertops Poker are giving players 20 free bets at their Roulette tables.

Everyone knows that Juicy Stakes and Intertops Poker are the two main poker rooms on the Revolution Poker Network, and that their poker tables attract players at all skill levels. After sending so many online players to exciting live tournaments, they're also gaining a reputation for online satellite tournaments. Lately, more and more players have also been discovering the suite of casino games in these poker rooms.

<iframe class="tscplayer_inline" name="tsc_player" src="http://www.lyceummedia.com/streak/150908-1/150908-1_player.html"; width="640" height="360" scrolling="no" frameborder="0" webkitallowfullscreen mozallowfullscreen allowfullscreen></iframe>

This month, poker players can play Roulette for free. Until September 23rd all players can get 20 free spins on either American Roulette or European Roulette. They'll get a $1 free bet on each spin and can keep their winnings (up to $250) which have a low 5X wagering requirement.

"Last month it was free video poker, this month free Roulette!" said Juicy Stakes' manager.

"We've also got Craps, Hi Lo and four variations of Blackjack!" added the manager at Intertops Poker.

Roulette was first played in France in the 18th century. European Roulette has just one zero while the American version invented later has two. Players bet on which number the ball will drop on, which color it will be, or whether it will be odd or even. "French bets" are wagers on a designated series of numbers with special names such as Voisins du zéro (neighbors of zero) and Le tiers du cylindre (Thirds of the wheel).

Intertops and Juicy Stakes Poker players have one more chance to win their way to a live poker tournament in Punta Cana. A final online satellite tournament series begins September 23 and will award a $4000 prize package to the champion on October 4. Players can buy-in at any point in the 3-tier tournament. Step 1 tournaments ($2.00 + $.20) are held daily at 14:00, 17:00, 20:00, 23:00 and 02:00 GMT in both poker rooms.


Check out our Online Poker site for more.
<!-- Affiliate Code Do NOT Modify--><a href="http://affiliate.intertops.com/processing/clickthrgh.asp?btag=a_48b_3022" ><img src="http://affiliate.intertops.com/processing/impressions.asp?btag=a_48b_3022" alt="26-Day Endurance Challenge at Intertops!" style="border:none; width:468px; height:60px; "/></a><!-- End affiliate Code-->
<a href="http://www.juicystakes.eu/?t=29646&Lang=en"><img style="border: none;" src="http://affiliates.juicystakes.eu/Server/Banner.ashx?i=ban_pk_js_468x60.gif&t=bonustreak" alt="Deposit Bonus 200% up to $1000"/></a>
​