Lucky 6 Video Slot Review By RTG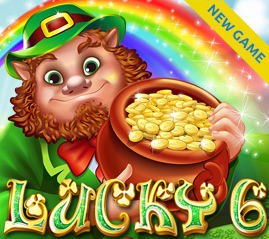 Lucky 6 is the latest released video slot at Jackpot Capital
Casino and powered by RTG software. This online video slot has 5
reels and 10 paylines and has images of a leprechaun, pot of gold,
wishing well, leprechaun shoes, clover, horseshoe, rabbit, mushroom,
ring and a rainbow, which is the wild symbol. The scatter symbols
are the letters and number, L, U, C, K, Y and 6. I really enjoyed
playing this slot, the only negative was that it does not have a random
jackpot attached to it.




Lines 1 to 5 pay left to right except for scattered LUCKY6 and lines
6 to 10 pay right to left except for scattered LUCKY6. The rainbows
are grouped wilds on reels 2, 3, 4 and 5 and substitute for all symbols
except for the scatter symbols and double any winnings.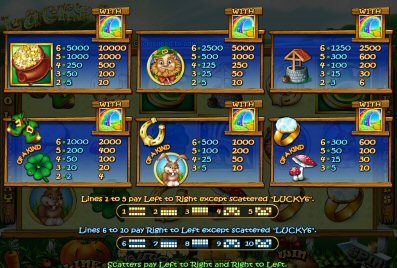 Four or more left to right or right to left of the scatters LUCKY6 will
trigger the Lucky 6 bonus. The free spins are enhanced if triggering
scatters occur from left to right or right to left on lines 1, 2 or 3.

Four scatters trigger the feature and eight free spins are awarded
with all prizes doubled. L, U or Y, 6 on the same line adds extra
grouped wilds to reels 3 and 4. If L, U, C or K, Y, 6 appear on the
same line all prizes will be multiplied by 5 times plus there will be
extra grouped wilds added to reels 3 and 4. If L, U, C, K or C, K,
Y, 6 appear on the same line the pot of gold will become an extra
wild on reels 2, 3, 4 and 5 and prizes will be multiplied by 5 times
and extra grouped wilds will be added on reels 3 and 4.

Five scatters trigger the feature and twelve free spins are awarded
with all prizes doubled and extra grouped wilds will be added on
reels 3 and 4. If L, U or Y, 6 appear on the same line all prizes
will be multiplied by 5 times. If L, U, C or K, Y, 6 appear on the
same line the pot of gold will become an extra wild on reels 2, 3, 4
and 5 and prizes will be multiplied by 5 times. If L, U, C, K or C, K,
Y, 6 appear on the same line there will be extra grouped wilds added
to reels 2 and 5 and the pot of gold will become an extra wild on
reels 2, 3, 4 and 5 and prizes will be multiplied by 5 times. If
L, U, C, K, Y or U, C, K, Y, 6 appear on the same line there will be
mega grouped wilds added to reels 2, 3, 4 and 5, and the pot of
gold will become an extra wild on reels 2, 3, 4 and 5 and prizes
will be multiplied by 5 times.

Six scatters trigger the feature and twenty five free spins are awarded
with all prizes doubled and extra grouped wilds will be added on
reels 3 and 4. If L, U or Y, 6 appear on the same line all prizes
will be multiplied by 5 times. If L, U, C or K, Y, 6 appear on the
same line the pot of gold will become an extra wild on reels 2, 3, 4
and 5 and prizes will be multiplied by 5 times. If L, U, C, K or C, K,
Y, 6 appear on the same line there will be extra grouped wilds added
to reels 2 and 5 and the pot of gold will become an extra wild on
reels 2, 3, 4 and 5 and prizes will be multiplied by 5 times.

If L, U, C, K, Y or U, C, K, Y, 6 appear on the same line there will be
mega grouped wilds added to reels 2, 3, 4 and 5, and the pot of
gold will become an extra wild on reels 2, 3, 4 and 5 and prizes
will be multiplied by 5 times. If L, U, C, K, Y, 6 appear on the same
line reels 3 and 4 will become wild with mega grouped wilds and pot
of gold will become an extra wild on reels 2, 3, 4 and 5 and prizes
will be multiplied by 5 times.

New players to Jackpot Capital Casino are eligible for a $1,000 Welcome
Bonus which consists of a first bonus of 100% up to $100 and 100 free
spins on Achilles. After your registration, look forward to the rest of your
Welcome Pack bonuses in your emails. You will receive bonuses one
after the other until it is a $1000 in total! Coupon Code: JCWELCOME



​