Joined

Jan 14, 2008
Messages

60,008
Fantasy sports sites
DraftKings
and FanDuel are about to face their first major legal hurdle.
New Jersey Sen. Frank Pallone, a ranking member of the House Energy and Commerce Committee, called for the panel to investigate the link between fantasy
sports and gambling following the increased promotion and coverage of DFS Trouble brews in DFS paradise as lawmaker challenges DraftKings, FanDuel legalityproducts throughout national TV broadcast networks.
On Monday, Pallone sent a letter to committee Chair Fred Upton (R-Mich.) and Commerce, Manufacturing and Trade Subcommittee Chair Michael C. Burgess (R-Texas).
"I am writing to request that the Energy and Commerce Committee hold a hearing examining the relationship between professional sports and fantasy sports to review the legal status of fantasy sports and
Sports Betting
,"
the senator wrote.
Pallone's interest in daily fantasy sports comes in the heels of the explosion in popularity of DFS sites. Over the weekend, National Football League viewers were pummelled by advertisements for sites,
including DraftKings and FanDuel. DraftKings alone spent $24 million in TV ads leading up to the first weekend of NFL football.
"Anyone who watched a game this weekend was inundated by commercials for fantasy sports web sites, and it's only the first week of the NFL season," the senator said.
"These sites are enormously popular, arguably central to the fans' experience, and professional leagues are seeing the enormous profits as a result."
Pallone is not far off the mark. Both FanDuel and DraftKings—which are reportedly valued at over $1 billion—have inked partnerships with different professional teams in several leagues,
and in some cases, have partnered directly with leagues themselves.
Daily fantasy sites allow their players to build their virtual teams every day or week, instead of only once at the beginning of the season.
FanDuel and DraftKings have real-money contests where users pay an entry fee to choose their team with a salary cap.
They stand to win cash prizes or lose their entry fee depending on how the players perform in real-life games. Although the odds of the average player winning is slim,
it was reported last week that only 1.3% of DFS players win 91% of player profits through the use of automated software that does most of the heavy lifting for them.
This, Pallone said, is an obvious interplay between federal laws, making DFS sites ripe for Congressional review.
"Fans are currently allowed to risk money on the performance of an individual player," Pallone said. "How is that different than wagering money on the outcome of a game?"
Online sports gambling are outlawed under the 1992 Professional and Amateur Sports Protection Act. But daily fantasy sports operate under the
Unlawful Internet Gaming and Enforcement Act (UIGEA) carve-out. Lawmakers back then didn't consider fantasy sports simply because this style of fantasy sports gambling just didn't exist at the time.
Early this year, American Gaming Association said Americans will bet over $3.8 billion with unauthorized
Sportsbooks
at the 2015 Super Bowl,
which is a clear indication that the current prohibition on
Sports Betting
outside Nevada is "clearly failing."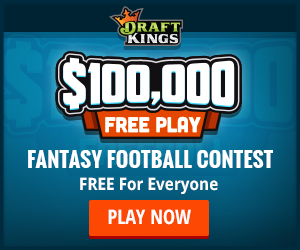 <img src="http://partners.draftkings.com/aff_i?offer_id=1944&file_id=6700&aff_id=160799" width="1" height="1" />
SOURCE