Shower Yourself with Riches!

On the last day of every month we will stage the $10,000 Monthly Bonanza online poker tournament.
The next tournament will run on June 6th, 2014 at 20:30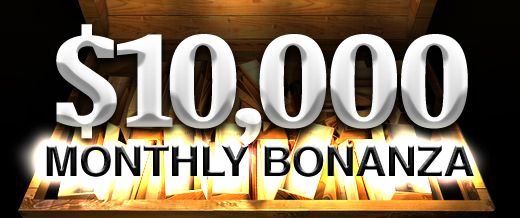 ​


Ways to Win

You can earn your $10,000 Monthly Bonanza token in the following ways:
1. Generate 750 Titan Points from May 1st - 28th
2. Make a First Deposit this month & receive a token to the $10K Bonanza running at the end of the month!
3. Qualification through one of these satellite tournaments:
10K Bonanza VIP Sat - Open to all VIP 2 and up players, 25 Point re-buys and add-on available
10K Bonanza Points Sat - Buy-in for only 10 Points with re-buy and add-on
10K Bonanza Depositors Sat - Open to all depositors from the previous week (Mon - Sun).


Visit Streak Online Poker for more online poker bonuses!
<br/>
Titan Online Poker
​