Jackpot Capital Casino and Mobile Casino Awarding $100,000 in 'Frozen Capital' Casino Bonuses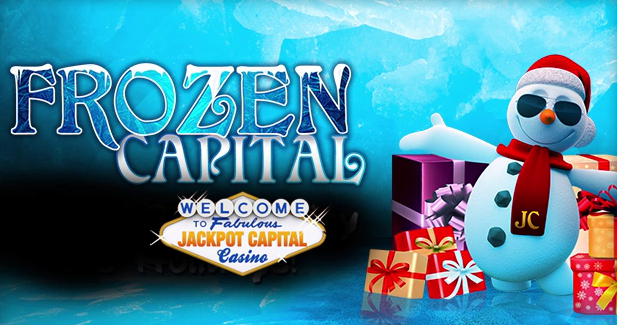 December 7, 2015 – London, UK (Press Release) – Jackpot Capital Casino is liquidating some assets and re-investing some Frozen Capital during its new casino bonus giveaway. Every Monday until January 3rd, hundreds of players will get casino bonuses up to $700 each based on points they've earned just by playing games. More randomly awarded bonuses every Friday give everyone a chance to win and to boost their point score before Monday bonusing.

Jackpot Capital players earn scoreboard points by playing casino games in either the online casino or the new Mobile Casino (Mobile - Jackpot Capital) for smartphones and tablets. Every Monday during the Frozen Capital event, nearly $20,000 will be given away and hundreds of players will get bonuses based on scoreboard rank. Even occasional players can win since another $5000 in Christmas Boom Bonuses is randomly awarded every Friday. A little extra cash in their accounts can help them improve their points ranking in time for Monday morning bonusing.

<iframe class="tscplayer_inline" name="tsc_player" src="http://www.lyceummedia.com/streak/151207-2/151207-2_player.html" width="640" height="360" scrolling="no" frameborder="0" webkitallowfullscreen mozallowfullscreen allowfullscreen></iframe>

Players can check their current ranking and find complete contest details at Frozen Capital | Jackpot Capital. A Christmas countdown on that page is marking the days until Christmas Day when special prizes will be announced there.

Jackpot Capital Casino has a wide selection of slots and table games from Realtime Gaming (RTG) but at this time of year Christmas slots like Naughty or Nice, Rudolph's Revenge and The Naughty List – also available in the Mobile Casino – are the most popular.

<a href="http://www.streakgaming.com/forum/30-free-no-deposit-welcome-bonus-jackpot-capital-casino-exclusive-offer-2-22-2016-a-t57360.html#post369153" target="_blank"><image src="http://img.photobucket.com/albums/v41/dani3839/Ashleys%20Room/Ashleys%20Room2/jpcbanner468a_zpsj32ystge.gif" alt="" border="0"></a>
​