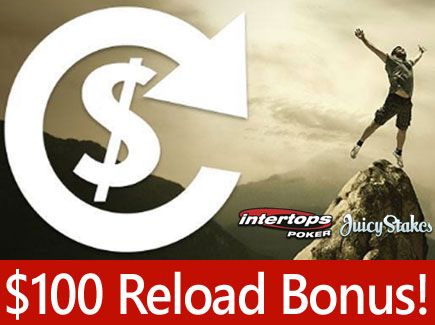 November 30, 2016 — St. Johns, Antigua (Press Release) – Until this Sunday, Intertops Poker and Juicy Stakes Poker are doubling players' deposits and giving them up to $100 extra cash to play poker online.



100% up to $100 Reload Bonus


Intertops Poker bonus code: WINTER16
Juicy Stakes bonus code: HAPPYSEASON
Available Nov. 29th to Dec. 4th only


"It's Christmas so everyone's credit cards are getting quite a workout this month," said Intertops' poker manager. "We thought it would be a good time to give our players some extra cash to play with."

"It's always nice to get some free cash!" said one regular player. "I'd play at Intertops anyway though. They're a pretty straight up bunch. No hassle with withdrawals. Pretty good mix of players at the tables all the time."

<iframe class="tscplayer_inline" name="tsc_player" src="https://secure1.securewebexchange.com/lyceummedia.com/streak/161130-2/161130-2_player.html" width="640" height="360" scrolling="no" frameborder="0" webkitallowfullscreen mozallowfullscreen allowfullscreen></iframe>

The busiest online poker rooms on the Horizon Poker Network, Intertops Poker and Juicy Stakes Poker welcome players from all over the world. They both have a full schedule of tournaments every day and just added several more weeknight Freerolls. In addition to their busy poker rooms, they both offer a selection of casino games. New players get 100 free $1 bets on Blackjack or Video Poker.

<!-- Affiliate Code Do NOT Modify--><a href="http://affiliate.intertops.com/processing/clickthrgh.asp?btag=a_48b_3022" ><img src="http://affiliate.intertops.com/processing/impressions.asp?btag=a_48b_3022" alt="26-Day Endurance Challenge at Intertops!" style="border:none; width:468px; height:60px; "/></a><!-- End affiliate Code-->
<a href="http://www.juicystakes.eu/?t=29646&Lang=en"><img style="border: none;" src="http://affiliates.juicystakes.eu/Server/Banner.ashx?i=ban_pk_js_468x60.gif&t=bonustreak" alt="Deposit Bonus 200% up to $1000"/></a>
​
Last edited by a moderator: