Cinco de Mayo, or the fifth of May, is a celebration of Mexican culture and heritage. The traditions include parades, piñatas, mariachi music performances and street festivals in cities and towns across Mexico and the United States.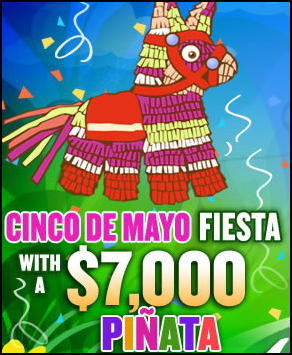 ​


This month BigTime Bingo i thsrowing the rowdiest Fiesta ever featuring more than $7,000 in prizes, including a $1,000 Guaranteed jackpot and of course, a huge Piñata!

Just win any game in the Fiesta Room with a ball ending in 5 (15, 25, 35, etc.) and grab a spicy bonus gift from our Piñata!

The Fiesta Room has a sassy combination of jumping prizes, reverse jackpots and HI-LOW games. You will be singing mariachi songs at the end of the night as you stuff your sack with loads of prize


Check out our Online Bingo Site for more.