Halloween Treats at Yahoo Bingo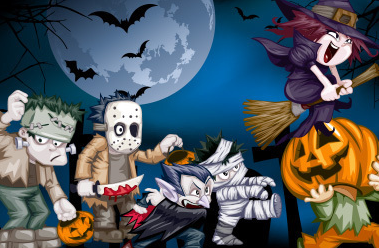 There's magic in the night, when pumpkins glow with candlelight! We've got loads of spook-tacular treats lined up for you this Halloween! No tricks this year, it's all treats.....

Try our FANG-tastic new Halloween Scratchcard today. Scratch and match just 3 pumpkin symbols and you'll be pleased as punch and £8,000 better off!

This £1 scratchcard is frightfully delightful , so what are you waiting for? Scratch a match today with the fabulous HALLOWEEN SCRATCH AND WIN



Join us in the Bingo Party Live on Wednesday 30th October for a Fright-tastic Halloween Special

Lock your doors and hide behind the sofas as its time for the scariest night of the year… Halloween! Share ghost stories with our hosts and your fellow roomies.

Our special Chat Games for this session:

Beat the Bite: The host will select 3 numbers. All you need to do is pick 3 different numbers; if all 3 of your numbers come up claim ***VAMPIRE*** to win.

Witch Hunt: All you need to do is pick which number will be the 31st call of the game. If you get it right, claim ***WITCH HUNT*** to win.

Pumpkin Carving: Choose the first number of a column on the board; each column represents a pumpkin. The first to completely carve their pumpkin (when all numbers in that column have been called) is the winner. The second column to be completed is the runner up. Players have 15 pumpkins to choose from. Only one Pumpkin will be allowed per player. You do not have to claim when all the numbers are called – the CM will announce the winner. If there is more than one winner, the prize will be shared amongst them.



On Halloween night we will be running a chat game marathon from 6pm till midnight! We have Halloween themed games every hour! Check them out…

Our special Chat Games for this session:
V for Vampire: Choose 3 numbers that form a V, eg: ***01 17 03***. The first player to see all of their numbers called must type ***VAMPIRE*** to claim the prize. Usual Chat game terms and conditions apply.

Spooky 0's: Choose 2 numbers; both must contain the number 0 (e.g. ***30 01*** or ***40 09***). Just type ***SPOOKY*** as soon as you see both your numbers; if you are the first to do so, you win! Usual Chat game terms and conditions apply.

Spider Legs: Choose any 2 numbers, at least one must contain the number 8, representing the number of legs a spider has (e.g. ***13 28***). If you are the first player to type ***SPIDER*** when both your numbers are called, you win!

And our final game will be Ghostbusters: This game is similar to hammer the House. There's a ghost in the bingo room! Choose 3 consecutive numbers in one column. The ghost has haunted the numbers 11, 12 and 13 so you can't have these. If your 3 numbers are called before the ghost's numbers are, just type ***GHOSTBUSTERS*** to get rid of the angry ghoul and win!

And don't forget we have £5,000 guaranteed on Wednesday 30th October in the Bingo Café! Join us for the spook-tacular Jackpot Genie Halloween special.
Check out our
Online Bingo
for more offers