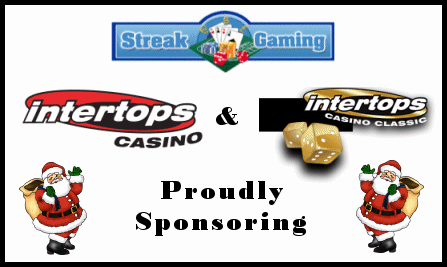 Streak Gaming has a great new Christmas deposit contest
just for our members!
This contest is sponsored by Interops Red Casino!

We need your help Filling Santa's Bag with Christmas Cash!
Intertops Red and Intertops Classic Casinos
have added $200 to start things off!





Santa needs your help to fill his bag with cash.
Once his bag is full, he is going to share it with at least 5 lucky Streak Gaming
members that helped him to fill his goodie bag!
The number of winners will be determined by the amount of support!
The more we raise the higher and more the prizes!

For every deposit of at least $30 you make, we are going to put $5 into Santa's bag.
Watch the amount grow with every deposit made.
(Example)
Deposit $30, we will add $5
Deposit $60, we will add $10
Deposit $90, we will add $15, and so on!

We will update Santa's Bag daily, or as deposits are made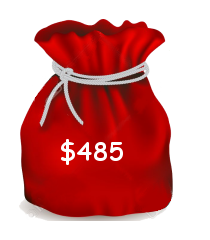 Once you have made your deposit at either Interops or
Intertops Classic Casinos, post your Casino ID,
the date and amount of your deposit and
tell us to "Fill Santa's Bag".

For every deposit you make you will get an extra chance at a share of the Christmas Cash!





Your deposits must be made after Dec. 3rd to qualify.
PLEASE NOTE: Deposits used for this contest may not be used to enter other contests
*We Must have at least 10 entries for prize pot to be given away.

On Dec. 31, we will do a drawing, the more deposits you make the more entries
into the drawing you will have.



Note:
1- Deposit must be bonus free
2-Last transaction in the casino cannot have been a bonus if you win a chip.
3-You cannot enter contest at another forum with the same deposit!
4-Casino management has the right to deny a chip, no questions asked
5-Streak staff has the right to extend or end a contest at their discretion or add or remove prizes accordingly.
6-You may not contact the casino in regards to a contest for any reason
7-You must make the minimum required deposit that is stated in the contest for your entry to count.
8-Failure to follow the rules will result in forfeiting of your entry and possibly being banned from entering future contests.
9-Casino terms and conditions apply
​
Last edited: