DraftKings
has become the 'official daily fantasy game' of Major League Baseball (MLB).
On Thursday, DraftKings announced a "multi-year expansion of its exclusive partnership" with MLB, which took an undisclosed equity stake in
DraftKings
two years ago.
The announcement comes just days before Sunday's commencement of the 2015 MLB season.
The partners' new relationship will include co-branded MLB DFS games plus "unique games and fan experiences." DraftKings will enjoy extensive promotion across
MLB
properties, including MLB.com-live sports streaming service MTL.TV, the MLB Network and the league's official social media properties. DK will also enjoy a highly visible presence at MLB ballparks
and plans to partner with individual MLB franchises on "once-in-a-lifetime, market-specific in-ballpark experiences."
DraftKings
is already the official DFS provider for the National Hockey League.
Rivals FanDuel have struck an exclusive deal with the National Basketball Association that allowed the NBA to take an undisclosed equity stake in FanDuel.
The National Football League has yet to pick a dance partner, presumably in order to (a) fend off even more accusations of hypocrisy over its virulently anti-betting stance, and (b)
give it time to figure out how to eliminate the middleman and launch its own bespoke DFS product.
Along with online horse betting, fantasy sports received a carve out from the 2006 Unlawful Internet Gambling Enforcement Act (UIGEA),
which restricted financial institutions from processing payments for other
online gambling
operators.
With legal
Sports Betting
still a long ways off for anyone not living in Nevada, DFS has become the only legal option for US sports fans looking to add some spice to their games.
SOURCE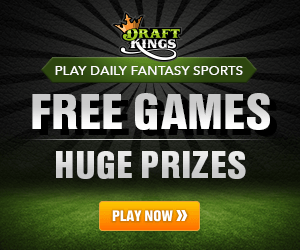 <img src="http://partners.draftkings.com/aff_i?offer_id=124&file_id=4432&aff_id=160799" width="1" height="1" />