Raging Bull Casino is sponsoring another great contest here at Streak Gaming™

We will be using the New Scratch Game 'Treasure Tree' to help us give away 2-$50 Prizes!

Please note: You do not have to play 'Treasure Tree' to enter, any deposit qualities

This newly released RTG software scratch game is unlike any other game in the full-featured online casino
The new Treasure Tree is a fun new kind of game that's generous with free games and pays up to 500X the bet.

In the new easy-to-play game players place a bet and then select Money Bags from the branches of a magical tree to reveal either prizes or free games. Three of a kind in the same colored bags wins up to 25 Free Games or up to 500x the bet in instant prizes! During Free Games prizes are tripled.






All you have to do to enter this contest is make a deposit of at least $20 at Raging Bull Casino
then come back here and post which casino your deposit was made at,
your Casino ID there and the date and amount of your deposit.
For every deposit of at least $20 you will get to pick. If you make a
single deposit of $100 or more, you will get to 2 picks for that deposit.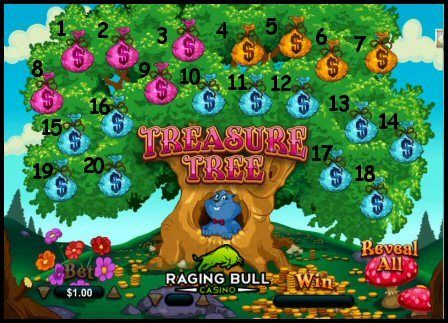 New players that download from our banner will also get an extra pick.
(just be sure and mention in your post that you are a new player) US okay!

This contest will end on 9/30 or at the discretion of Streak Gaming

Please make sure you post your casino ID and date and amount of your deposit.

Winners will be drawn from all correct answers.

Good luck Streakers
and
Thanks for the support!

*NOTE: Prizes all have a 40X wagering requirement and a 5X Max Withdrawal.


1- Deposit need not be bonus free as long as you have made other bonus free deposits in the month.
2-Last transaction in the casino cannot have been a bonus if you win a chip.
3-You cannot enter contest at another forum with the same deposit!
4-Casino management has the right to deny a chip, no questions asked
5-Streak staff has the right to extend or end a contest at their discretion
or to change the number and amount of prizes
6-You may not contact the casino in regards to a contest for any reason
7-You must make the minimum required deposit that is stated in the contest for your entry to count.
8-Failure to follow the rules will result in forfeiting of your entry and possibly being banned from entering future contests.*
9-Casino terms and conditions apply
​

Last edited: