Ok Poker Players Are you ready for another Freeroll Poker
Tournament? On Saturday, June 16th we are going to be
running another Poker Freeroll with Intertops Poker. US are welcome
WHAT:

Streak Gaming Monthly Freeroll at Intertops Poker!


WHEN:

Saturday June 16th - 8 PM EST


MIN. PLAYERS NEEDED:

10


MAXIMUM PLAYERS:

500
Re-Buys and Add-Ons will be available.

A chance for NEW players to win $30 CASH paid out
by Streak Gaming!

If you don't have an account at Intertops Poker,
please use the banner below to sign up for one now
Post below that you are a new player and used our
banner to open your account. Once all accounts
have been verified, we will draw one lucky name and
award that new player with $30 CASH.

(This is for players that do NOT have an account at
all at Intertops and we must have a minumum of 3
new players to give away the $30)


Winners will be paid in either PayPal or
Intertops newest Player To Player Transfer.
If you do not have one of these, you will need
to get one to be eligible to be paid.

All you have to do is to post below that you want to
play in the freeroll and post your table nickname also.
YOU MUST POST YOUR TABLE NICKNAME TO GET THE PASSWORD!!
Then sometime before the tournament,
I will PM you all with the password. This is password
protected so that only our members will be able to play,
we do not want the players that try and horn in on all
Freerolls and take the wins. So, if anyone is caught sharing
the password with anyone, they will be banned from joining
any more of the Freerolls in the future. Sorry, but we think
our members should be the ones getting the perks, not the
card sharks out there!

This should be a lot of fun and I for one plan on playing.
As we stated before, if you are new to poker, or just feel
uncomfortable about your poker skills, the Freerolls are
the best way to get your feet wet. Also, check out the
rest of the poker room here to learn a little more
(still not sure, PM me maybe I can point you in the right
direction!)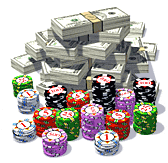 NON RAKEBACK USE THIS BANNER
PLAYERS WHO WANT RAKEBACK PLEASE USE THIS BANNER TO OPEN AN ACCOUNT WITH!
Last edited: