Buy Up The Stations at Gala Casino
BUY UP THE STATIONS! FOLLOW BONUS TRACKS FOR UP TO £800!




What


What did you think of Monopoly: Big Event? If you liked it then why not take a ride to riches with not one, not two, but four separate, 25% deposit-boosting bonuses worth up to £200 each!



How


Players who've made at least 3 previous deposits may take part:
-Log in and deposit £10 or more to your account
-Choose to Buy In to this offer with at least £10 in the pop-up
-Your 25% bonus will automatically be added to your account

You can take advantage of four of these bonuses (one for each station on the board) until the end of the promotion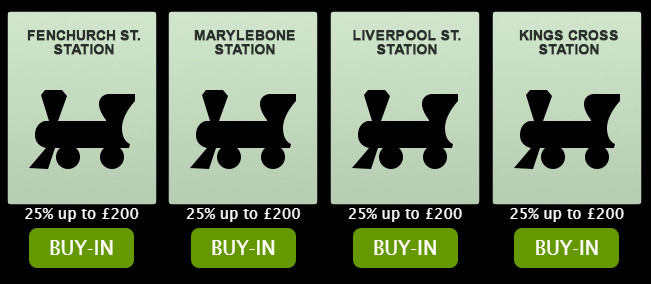 Collect all four of the stations and you can hike up the fares to give yourself another 100% buy in bonus of up to £200!

Online Playtech Bonuses
<a href="http://affiliates.galapartners.co.uk/processing/clickthrgh.asp?btag=a_5078b_5441" ><img src="http://img.photobucket.com/albums/v41/dani3839/banners/mobile-tablet-tv_468x60_zpsae9cff71.gif"/></a>​