Blackjack Monday at Gala Casino
BLACKJACK MONDAY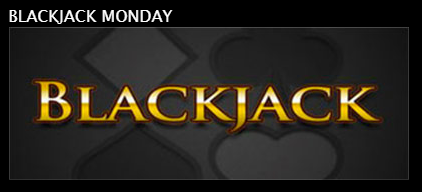 Guarantee a £10 return so long as you play at least £100 on Blackjack Monday!

Terms and Conditions
Offer open to online real money GalaCasino.com customers aged 18+ who are resident in any country where the promoter accepts customers and have made 3 previous deposits.
Players from the following countries are excluded from receiving this offer: Russia, Croatia, and Romania.
Promotion runs from 00:00 to 23:59 UK time, every Monday.
To qualify for the £10 bonus, users must Opt-in by clicking the Opt-in button. After that they have to bet £100 until 23:59 UK time Monday, on any Blackjack game available on the GalaCasino website, mobile, tablet and casino download client.
The £10 bonus will assigned to your account the following day by 17:00 UK time.
If the bonus does not appear, please contact our customer services team, prior to placing any bets, and the bonus shall be credited for you.
A wagering requirement of 40 times the bonus amount (example; £10 bonus x 40 = £400) must be met before any winnings can be withdrawn.
Please note that only play on any of our qualifying games on the GalaCasino website, mobile, tablet and casino download client will count towards wagering requirements. Play on poker or poker side games will not contribute to the wagering requirements.
Your remaining wagering requirement can be reviewed on the website by clicking 'Cash Balance' at the top of the page. Your remaining wagering will show at the bottom of the balance pop up window.All casino bonuses have a redemption threshold set to £0.50p. If/when your bonus balance drops below the set redemption threshold amount your bonus will automatically redeem/close, releasing any accumulated winnings attributed to that bonus.
The bonus shall expire within 7 days after acceptance of the bonus. If wagering has not been completed by then, the entire bonus balance (bonus + winnings) shall be removed.
Withdrawing any funds from any section of your GalaCasino account before completing all of the required wagering attributed to your Casino link bonus will result in your bonus funds and winnings being removed.
Players deemed at the sole discretion of the promoter to be adopting a low risk betting strategy to clear wagering will have the bonus along with any winnings removed. This includes, but is not limited to, betting on red or black.
If a player has an active bonus and wins more than twice the value of the bonus amount, they must stay playing in a game of similar or equal weighting until wagering has been completed. Moving from low weighted games like Blackjack, to high weighted games like slots, after a large win, for the sole purpose of completing wagering requirements, will result in the bonus and any winnings being removed
Please note that you can only wager towards one bonus in the bonus section of your account at a time. Other bonuses can be "stacked". Once you have completed the required wagering towards one bonus, you will then begin wagering towards the next bonus.
If a combination of bets placed in a roulette game amounts to coverage of 75% or more of the Roulette wheel, these bets will not count towards the bonus wagering requirement. This is applicable to all version of roulette on the casino and games tabs online, on downloadable client and on mobile.
Online Playtech Bonuses
<a href="http://affiliates.galapartners.co.uk/processing/clickthrgh.asp?btag=a_5078b_5441" ><img src="http://img.photobucket.com/albums/v41/dani3839/banners/mobile-tablet-tv_468x60_zpsae9cff71.gif"/></a>​