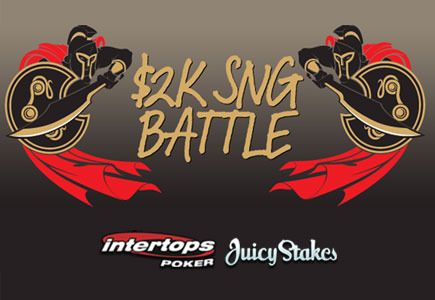 August 27, 2015 — St. Johns, Antigua (Press Release) – The ultimate SnG Battles have just begun at Juicy Stakes and Intertops Poker. Players at the top of the Sit n Go leaderboard September 1 – 7 will split $2000 in prize money. Another $2000 will be awarded to the top players September 8 -14.

The $2000 weekly prize money will be split between players in SnGs with a buy-in of up to $5 and between $5 and $10. Each weekly race begins Saturday at midnight and continues until the following Friday midnight GMT. The top 30 players will receive cash prizes every Monday.

"The higher your buy-in and the more players you play against, and the better you place, the more points you earn towards your ranking," explained Intertops' poker manager.

"For example, winning at a 10max table with a buy-in of $10 will earn you 10 points for the $5 up to $10 leaderboard," added the manager at Juicy Stakes.

<iframe class="tscplayer_inline" name="tsc_player" src="http://www.lyceummedia.com/streak/150827-1/150827-1_player.html"; width="640" height="360" scrolling="no" frameborder="0" webkitallowfullscreen mozallowfullscreen allowfullscreen></iframe>

Juicy Stakes and Intertops Poker are the two main poker rooms on the Revolution Poker Network. In addition to busy poker tables with players at every skill level, they both also offer dozens of online casino games from Cake Gaming.

The two poker rooms regularly co-host online satellite tournaments that send winners to live poker tournaments in Europe and the Caribbean. The winner of the series that began yesterday will win a prize package sending them to the CPT Punta Cana in November. Winners share their experiences on the Living the Dream poker blog (http://www.live-dream.poker.blogspot.com).


Check out our Online Poker site for more.
<!-- Affiliate Code Do NOT Modify--><a href="http://affiliate.intertops.com/processing/clickthrgh.asp?btag=a_48b_3022" ><img src="http://affiliate.intertops.com/processing/impressions.asp?btag=a_48b_3022" alt="26-Day Endurance Challenge at Intertops!" style="border:none; width:468px; height:60px; "/></a><!-- End affiliate Code-->
<a href="http://www.juicystakes.eu/?t=29646&Lang=en"><img style="border: none;" src="http://affiliates.juicystakes.eu/Server/Banner.ashx?i=ban_pk_js_468x60.gif&t=bonustreak" alt="Deposit Bonus 200% up to $1000"/></a>
​
Last edited by a moderator: