250% New Player Welcome Bonus At Glossy Bingo
Glitz, Glamour, Glossy!

At Glossy Bingo, we welcome all you up-and-coming stars with open arms! That's why, to make your
time here the best it can be, we're rolling out the red carpet and putting you on the A-list!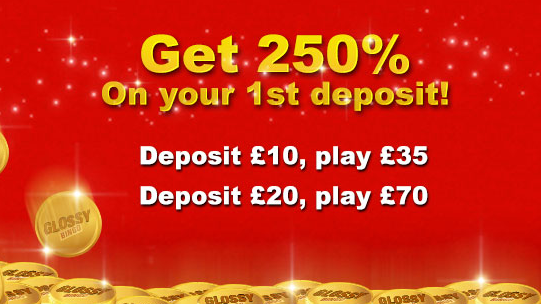 To start you off we have a 250% first deposit bonus. That means a deposit of just £10 will give you £35 to play with, so why not make that deposit now and hit the rooms for some great gossip and games.

[TABLE="class: grid, width: 500, align: center"]
<tbody>[TR]
[TD]Deposit [/TD]
[TD]Play With[/TD]
[/TR]
[TR]
[TD]£10 [/TD]
[TD] £35[/TD]
[/TR]
[TR]
[TD]£20[/TD]
[TD]£70[/TD]
[/TR]
[TR]
[TD]£30[/TD]
[TD]£105[/TD]
[/TR]
[TR]
[TD]£40[/TD]
[TD]£140[/TD]
[/TR]
</tbody>[/TABLE]


As always if you have any queries, questions or just feel like a chat you can contact The G-Team who are more than happy to help!

Check out more online bingo sites.

<!-- Affiliate Code Do NOT Modify-->
<!-- End affiliate Code-->​