$200 Lifestyle Bonus at Grande Vegas Casino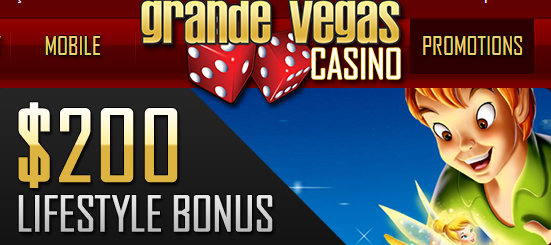 Live your life with style! 2014 was dedicated to inspiring people!

This year is all about fictional heroes! Enjoy a 50% Bonus up to $200.

Receive a 50% deposit bonus up to $200! Deposit up to $400 and play with $600!


[TABLE="class: grid, width: 500, align: center"]
<tbody>[TR]
[TD]Bonus[/TD]
[TD]Coupon Code [/TD]
[TD] Validity[/TD]
[/TR]
[TR]
[TD]50% up to $200[/TD]
[TD] PETERPAN[/TD]
[TD] until May 14th[/TD]
[/TR]
</tbody>[/TABLE]

How to get your bonus:

Go to the cashier's 'Redeem Coupon' section, enter the coupon code PETERPAN and enjoy your extra cash! General Grande Vegas Terms & Conditions apply.




Grande Vegas Casino is powered by RTG Software.



​