$140,000 Murder Mystery Promotion at Intertops Casino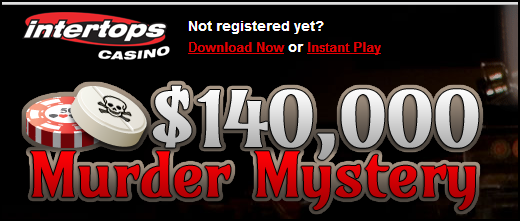 Lola Loot is found dead on the floor near the
roulette table. Earn points as you play your favorite games at
Intertops Casino! and work to help find the murderer.
You can win a share of $30,000 every week!



As you accumulate points you make your way through 6 stations
and receive important clues to help solve the crime. The more stations
you move through, the more prize money you can win – station prize
draws take place each Monday!

If you make it all the way to station 6, you can qualify for 3 x $1,000
cash prizes at the promotion's end! Players who successfully solved
the crime qualify first! Additional bonus prizes in stations 1-5.

How close are you to solving the case?
Be sure to submit your account name regularly to find
out your station progress and how many points you've earned so far!
Guess who the murderer is by selecting your suspect!

Plus, enjoy the added prizes each Thursday:

Every Thursday 50 selected players will be awarded a free bonus.*
Players will be drawn based on their Monday through Wednesday
game-play performance at Intertops Casino.

Check your e-mail Monday and Thursday to find out if you've been awarded a free bonus.

Click here for more details.

Please note: Terms and Conditions apply.

Intertops Casino is powered by RTG Software.


<!-- Affiliate Code Do NOT Modify-->
<!-- End affiliate Code-->
​
Last edited by a moderator: