$1 Million Home Run At Draft Kings
Prizes

1st Place $100,000
2nd Place $60,000
3rd Place $40,000
4th Place $30,000
5th Place $20,000

Over 750 Teams Get Paid!

View Full Prize Structure

Format

Draft ten players from the 13 MLB games starting at 7:05pm EST and later on April 28th

Win an entry for as little as $5 or buy in
directly for $300!
Satellites run through April 27th
Unlimited entries allowed per person!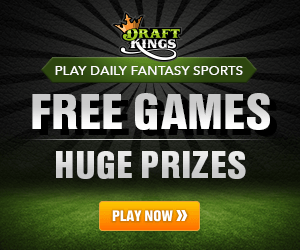 <img src="http://partners.draftkings.com/aff_i?offer_id=124&file_id=4432&aff_id=160799" width="1" height="1" />
​