You might spend most Sundays in the recovery position, trying to
forget about the night before… But that doesn't mean you can't win big at the
Paddy Power Poker's poker tables!
With a range of online poker tournaments, stacks so big they require a warning sign (extreme, but necessary)
and over €250,000 guaranteed, Stacked Sunday's is a no brainer for anyone who's ready to go all in.





Stacked Sunday offers nine big money tournaments and buy-ins range from as €5 to €150.00.

You can check out our full schedule below: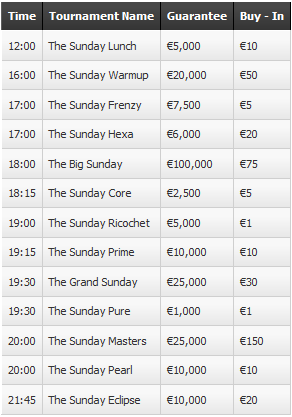 Visit Streak Online Poker for more online poker bonuses!
​