Administrator
Staff member
Joined

Jan 17, 2008
Messages

80,375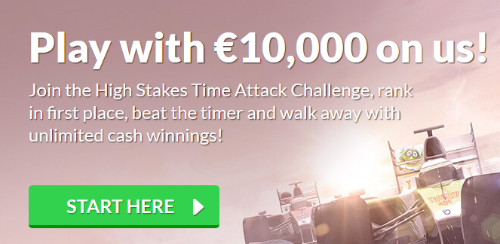 Join the High Stakes Time Attack Challenge, rank in first place,
beat the timer and walk away with unlimited cash winnings at Quasar Gaming

Race your way to pole position and rank first in our weekly challenges!

Pick the active challenge on the dedicated Time Attack page, and follow 3 easy steps to participate. Make a deposit, bet on the on the selected jackpot game and keep both fingers crossed as you challenge players from around the world to finish the race in pole position!

Spin the reels on our online slot game of the week and make the highest net profit to rank in first place and take on the Quasar Time Attack Challenge that could have you betting up to €4000 in 400 seconds – can you handle it?

We'll deposit the money into your account – all you need to do is spin the reels as fast as you can, beat the timer, and walk away with all the winnings!

Week 1 – Spin €1,000 in 100 seconds
Week 2 – Spin €2,000 in 200 seconds
Week 3 – Spin €3,000 in 300 seconds
Week 4 – Spin €4,000 in 400 seconds

Our Quasar Time Attack Challenges will be aired on Twitch every week on Wednesday at 9.00pm CET. Tune in to our channel to see the winner battle against time. Should s/he not make any profits, the original starting amount will be distributed amongst all qualified participants in no deposit bonuses, with a minimum of €5 bonus guaranteed – so even if you do not finish in first place, you too stand a chance of winning!


​