£800,000 Party Weekends This Holiday Season At Bet365 Bingo!!
Nine days packed full of cash prizes this Holiday Season at Bet365 Bingo

Join the party from 18th until 20th, 25th until 27th December and 1st until 3rd January in the Guilty Pleasures room, where tickets cost from 1p to 50p and total prizes rise to £5,000.

Doors are open from 12:00 until 23:59 UK Time each day with 10 games running every hour, including Jingle Bells Roll On, Gold Ticket Xmas Special, Xmas 1TG and many more.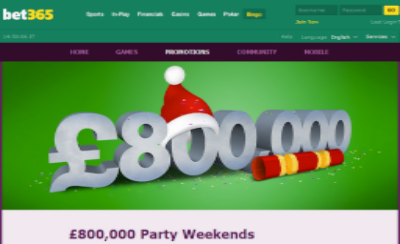 Check out the dates to play below and visit the Bingo schedule to snap up your tickets now!

Terms and Conditions

This is a network promotion open to all members of participating Virtue Fusion websites.
You will be notified prior to the game whether Roll On, 1TG, 2TG or Last Chance Saloon Scratchcard prizes will be credited to your Withdrawable cash balance or Bonus balance. Where winnings are credited to your Bonus balance, the amount of the bonus will need to be wagered four times on Bingo before becoming withdrawable.

Party Weekends
Dates Prize-Pools
18th December – 20th December 2015 £250,000
25th December – 27th December 2015 £250,000
1st January – 3rd January 2016 £300,000

Please read full terms and conditions here!

Check out our Online Bingo for more offers
​


<A href="http://imstore.bet365affiliates.com/Tracker.aspx?AffiliateId=16978&AffiliateCode=365_027579&CID=149&DID=5&TID=1&PID=136&LNG=1" target="_blank"><img src="http://imstore.bet365affiliates.com/?AffiliateCode=365_027579&CID=149&DID=5&TID=1&PID=136&LNG=1" border="0" ></A>
​