Administrator
Staff member
Joined

Jan 17, 2008
Messages

81,740
Daily Triple £500 Guaranteed at Butler's Bingo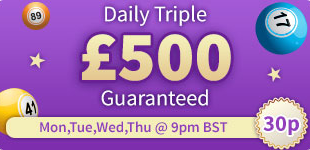 Evening £200, £250 & £500

Between 7pm & 9pm (BST) every weekday Mon - Thurs
Play The Butler's Triple Games with guaranteed bingo jackpots up to £500!
The longer you play the more you can win!
Advanced Buy your tickets up to 30 days in advance, just head for the 'Special Games'
Buy 6 tickets and GET 6 tickets FREE!

Play more Online Bingo here.
<!-- Affiliate Code Do NOT Modify-->
<!-- End affiliate Code-->​