£5 to Try New Games at Gala Casino
GET AN EXTRA £5 TO PLAY ON EACH OF OUR NEWEST GAMES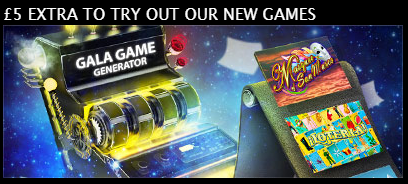 Trying out a flashy new game that's caught your eye is always an exciting moment and at Gala Casino we're bringing you more of the best new games around – including exclusive titles you just won't find anywhere else!

How
Deposit £10 cash and buy in on your chosen game
Bet that £10 on your chosen game
Receive your £5 bonus for the same game

You can repeat these steps with each new game you find on this page. Remember to check back each week to find more great new games...

MASQUES OF SAN MARCO
Dance to a winning tune... Win prizes with poise! Welcome to the famous Venetian carnival where you can hide your indulgances and play without a care. Look for the DualPLAY feature which gives you two base games in one, leading to even more luxuries!

LOTERIA
Experience bingo with a Mexican twist! Colourful Central-American-themed playing cards take the place of regular numbers so you'll be looking to match symbols including maracas and mariachi bands in set patterns to win. Reveal 5 or more star-cards to trigger the amazing 100x Piñata bonus! Arriba, arriba! Ándale, ándale!

SNAKES AND LADDERS
This board game-inspired slot has 3 reels, 5 lines and features a jackpot for lining up 3 'Snakes and Ladders' symbols. Move your way up the classic Snakes and Ladders board, towards the prize, each time you line up three dice symbols.

Online Playtech Bonuses
<a href="http://affiliates.galapartners.co.uk/processing/clickthrgh.asp?btag=a_5078b_5441" ><img src="http://img.photobucket.com/albums/v41/dani3839/banners/mobile-tablet-tv_468x60_zpsae9cff71.gif"/></a>​