£5,000 + £10,000 Up For Grabs - Footcast Predictions At ComeOn Sportsboo
Get at least 8 predictions correct and you'll win a share of £5,000* at ComeOn Sportsbook.
Get all 10 correct + the Jackpot question and you'll win the Jackpot!
To give you a better chance of succeeding, we've added in 3 double chance selections for you to use.

*Make sure to place a qualifying bet to be eligible for cash prizes from your Footcast prediction
online poker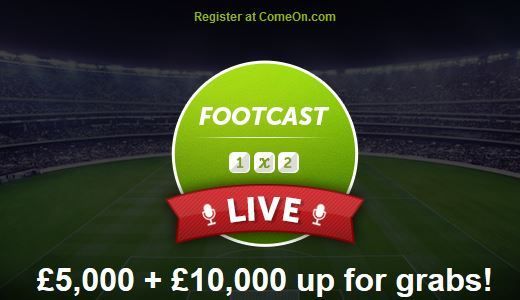 Follow the steps below to make your Footcast prediction


MAKE PREDICTIONS
Tick off your predictions in the slip in the same way as you would bet in our ComeOn! Sportsbook. You need to tick one selection for each match and use all of your double chance selections.

DOUBLE CHANCES
You have available double chance selections to add anywhere you wish (1X, 12 or X2). You will need to use all to continue.

FILL IN DETAILS
Fill in your username you have registered at www.comeon.com.

SUBMIT YOUR FOOTCAST
Double check the details you filled in and that your selections are all correct and click on 'Submit Footcast'.

OPT-IN FOR CASH PRIZES
Make sure to place a qualifying bet to be eligible for cash prizes from your Footcast prediction.


​