£30,000 Community Night At Bet365 Bingo
Join Bet365 Bingo on 7th and 21st February from 17:00 until 22:59 UK Time !

The non-stop action starts at 17:00 UK Time in the Guilty Pleasures room.
Whatever online bingo you enjoy, there are games for everyone including Penny Bingo,
Last Chance Saloon and the ever-popular 1&2TGs.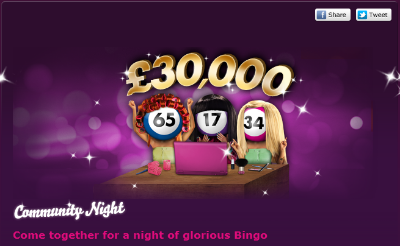 On Valentine's Day play for an extra hour and enjoy £50,000 in guaranteed prizes from 17:00 until 23:59 UK Time, where you can grab tickets at the same low prices and play for enhanced prize-pools up to £1,500.

Miss it and you'll miss out, so make sure you're there to pocket yourself a share
of £30,000. Buy your tickets now.

Check out our Online Bingo for more offers
​


<A href="http://imstore.bet365affiliates.com/Tracker.aspx?AffiliateId=16978&AffiliateCode=365_027579&CID=149&DID=5&TID=1&PID=136&LNG=1" target="_blank"><img src="http://imstore.bet365affiliates.com/?AffiliateCode=365_027579&CID=149&DID=5&TID=1&PID=136&LNG=1" border="0" ></A>
​