£20K Xmas Sleigh At ABC Bingo
Have yourself a merry £20,000 XMAS! Win £1K every day for 20 days!

Join ABC Bingo for this great Christmas fun. Online Bingo at its best.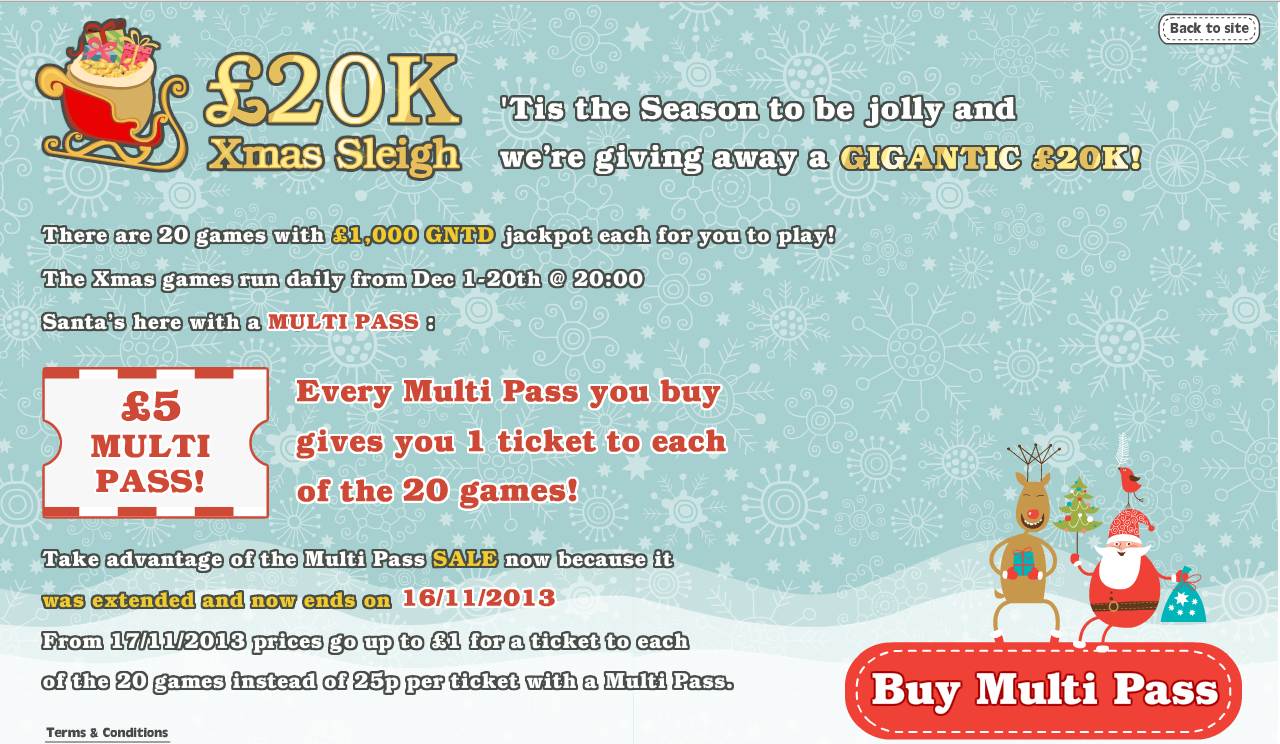 The following are the terms and conditions of the "£20K Xmas Sleigh" promotion (the "Promotion"). The Promotion shall be organized by Brigend Ltd. (the "Promoter"). Your participation in the Promotion shall be deemed to constitute your complete acceptance of the terms and conditions set out herein.

1. The Promotion shall be open ONLY to registered players who have a funded active account with the Promoter at ABC Bingo.
2. The Promotion runs from September 1, 2013 and finishes on December 20, 2013 at 22:00 GMT (the "Promotion Period").
3. During the Promotion Period Until November 16, 2013 at 23:59 GMT we shall make available at the 'Ticket Office' special Multi Pass tickets at a reduced price of £5 which will grant the participants 1 ticket to each of the 20 Xmas bingo games with a guaranteed jackpot of £1,000 each (i.e. a total prize of £20,000) (the "Prize").There will be one XMAS £1,000 GNTD game every day at 20:00 GMT. From November 16 2013 the Multi Pass will no longer be available and individual game tickets will cost £1 each(instead of 25p at the Multi Pass price).
4. Your participation in the Promotion is deemed to constitute your agreement that the Promoter may use your name, likeness or image for promotional purposes on its website or elsewhere without the requirement for any payment and you expressly waive any claims against the Promoter in this regard should you win the Prize.
5. The Promoter maintains the right to disqualify or exclude any player from the Promotion, at its sole discretion.
6. If a members account has been closed or self-excluded during the Promotion Period or at the time the winner is announced, he/she will not be eligible for the Prize and the runner up will receive it.
7. By entering the Promotion each entrant agrees to release, discharge and hold harmless the Promoter, its legal representatives, affiliates, subsidiaries, agencies and their respective officers, directors, employees and agents from any damages whatsoever, including any personal injury suffered or sustained in connection with the acceptance of the Prize.
8. The Promoter reserves the right to alter these terms and conditions at any time in its sole discretion.
9. The Promoter reserves the right, at any time, to cancel, modify or suspend the Promotion if, in its sole judgment, the Promotion is not capable of being conducted as specified.
10. The Promoter may terminate the promotion at any time without any prior notice.
11. All ABC Bingo Terms & Conditions and Bonus Policy details will apply.
12. These terms and conditions and any matters relating hereto shall be governed by and construed in accordance with the laws of Gibraltar and shall be subject to the exclusive jurisdiction of the Gibraltar courts.