Football Season is almost here! Let's celebrate with a brand new contest
sponsored by Intertops Casino Classic which is brought to you by
the trusted Intertops Casino Group.Intertops Casino Classic is powered by
WGS Technologyand is offered as an instant play casino or a downloadable casino.
Game Day online video slot has a football theme and has 5 reels
and 20 paylines. The images are of a couple of football players,
the umpire, which is the wild symbol, game play which is the scatter
symbol, a football, a whistle, a finger, a coin, a target, which is the
bonus symbol, cheerleaders and goal posts.
This is a deposit contest, and you must make a
deposit of at least $20 to enter.
For every deposit of at least $20, you will get to pick
one image from the images below
These are the Prizes for this contest
2-$50
2-$35
You will get one pick per deposit, but if you make a single
deposit of at last $100 or more, you will get 2 picks.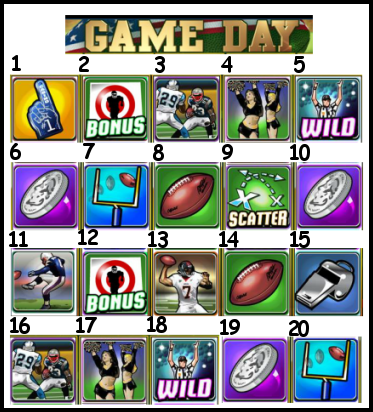 Please make sure you post your casino ID and
amount of your deposit. Please do not copy and paste your
deposits into contest thread.
Winners will be chosen from all correct answers.
Contest will end on Sept. 20 or at the discretion of Streak Gaming!
If you do not already have an Intertops account,
Click the link below to receive $20 Free No Deposit welcome bonus!
Exclusive $20 Free No Deposit Offer For New Players

Please note:Terms and Conditions apply.
1- Deposit need not be bonus free
​
2-Last transaction in the casino cannot have been a bonus if you win a chip.
​
3-You cannot enter contest at another forum with the sae deposit!
​
4-Casino management has the right to deny a chip, no questions asked
​
5-Streak staff has the right to extend or end a contest at their discretion
​
or to change the number and amount of prizes
​
6-You may not contact the casino in regards to a contest for any reason
​
7-You must make the minimum required deposit that is stated in the contest for your entry to count.
​
8-Failure to follow the rules will result in forfeiting of your entry and possibly being banned from entering future contests.
​
9-Casino terms and conditions apply
​
10-Prizes must be claimed within 10 days after they are announced
​
Last edited: