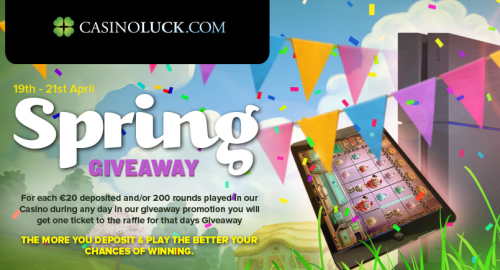 For each €20 deposited and/or 200 rounds played in our casino, during any given day throughout the promotion period, you will get one ticket to the raffle for that day's giveaway. The more you deposit/play the higher your chances of winning one of the prizes.

Date Prize in today's draw:

Apr 19 Tuesday
Sony Playstation4

Apr 20 Wednesday
Beats by Dr. Dre Solo2 Wireless Headphones

Apr 21 Thursday
iPad Mini


Promotion Rules:
1. For each €20 deposited, or 200 rounds played on our slots, you will get one ticket for that day's raffle. Slots rounds must be played with all available paylines selected.
2. All times and dates are stated in GMT. Please ensure to fulfil the requirements in accordance with GMT time-keeping. Each day's campaign period starts at 00:01 GMT and ends at23:59GMT.
3. For a deposit to qualify for the promotion, it must be turned over at least 3 times on our slots games.
4. Only one account per person is allowed to enter the promotion.
5. Instead of the item itself, CasinoLuck reserves the right to give players cash of the same value as the prize in the raffle is valued at.
6. The results of the raffle, or any other decisions taken by CasinoLuck management regarding this promotion, are final and may not be contested
7. CasinoLuck has the right to cancel this promotion at any time.
8. The winners will be notified via email within 48hrs.
<!-- Affiliate Code Do NOT Modify--><a href="http://affiliates.casinoluck.com/processing/clickthrgh.asp?btag=a_6999b_2934" ><img src="http://affiliates.casinoluck.com/processing/impressions.asp?btag=a_6999b_2934" style="border:none;width:468px;height:60px;" border=""></a><!-- End affiliate Code-->
​