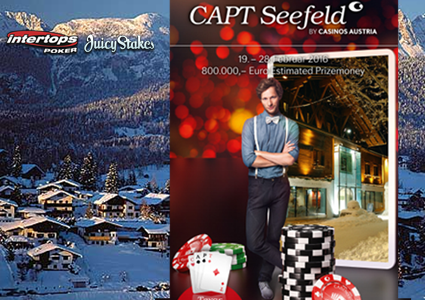 December 7, 2015 — St. Johns, Antigua (Press Release) – Intertops Poker and Juicy Stakes are sending another online poker player to a high stakes live tournament. Recent winners went to the Caribbean but this time the destination is an Austrian ski resort. The winner of a three-tier satellite tournament series that begins this week will receive a $3200 prize package to play in the CAPT Seefeld Main Event in February.

Several daily Step 1 tournaments, with a buy-in of only $2 + $.20, begin Wednesday and continue until December 19th. The prize package awarded to the winner of the Final on December 20th includes buy-in (€2,160) to the CAPT Seefeld Main Event (February 25th – 29th), four nights at a premium hotel, and $500 to help with travel expenses.

<iframe class="tscplayer_inline" name="tsc_player" src="http://www.lyceummedia.com/streak/151207-1/151207-1_player.html" width="640" height="360" scrolling="no" frameborder="0" webkitallowfullscreen="" mozallowfullscreen="" allowfullscreen=""></iframe>

&#8220;It would be great to see another player go all the way,&#8221; said Intertops&#8217; Poker manager. &#8220;Just last week, one of our players won the TKPT event in St Maartens &#8211; over $30,000 in prize money and he got there by winning a $2 Step 1 tourney and then winning his way all the way to the main event!&#8221;

The TKPT winner&#8217;s story is on the Living the Dream blog (Living the Dream) where online players share their live tournament experiences.

Players can win their way to Austria or buy-in at any stage of the CAPT Seefeld tournaments.

CAPT Seefeld Satellite Tournament Schedule

Step 1 ($2+$0.20)
Winners receive a Step 2 ticket
Daily December 9th to 18th, 10 am, 1 pm, 4 pm, 10 pm EST (4 pm, 7 pm, 10 pm, 4 am CET)
Dec 19th, 10 am & 1 pm EST (4 pm & 7 pm CET)

Step 2 ($10+$1)
Winners receive ticket to Final
Daily December 9th to 19th, 4 pm EST (10 pm CET)

Final ($100+$10)
$3200 CAPT Seefeld prize package awarded
Sunday, Dec 20th, 4 pm EST (10 pm CET)

CAPT Seefeld, where there will be an estimated &#8364;800,000 in prize money, is part of the CAPT Big Four. Last year, an Intertops online satellite champion won his way to CAPT Velden, and even made it to the Final Table at that &#8364;500 buy-in event.
&#8220;I like CAPT tournaments because all kinds of people come to play: pros as well as people on holiday,&#8221; Christoph said after nearly winning. &#8220;There&#8217;s a good mix of people and playing skills. For me it&#8217;s also fun to meet a lot of players that I know but don&#8217;t see very often.&#8221;

Intertops Poker and Juicy Stakes Poker are the two most popular online poker rooms on the Revolution Poker Network. In addition to busy poker tables with players at every skill level, and frequent online satellite tournaments for major events around the world, they also offer dozens of online casino games from Cake Gaming.


Check out our Online Poker site for more.
<!-- Affiliate Code Do NOT Modify-->
<!-- End affiliate Code-->
​
Last edited by a moderator: