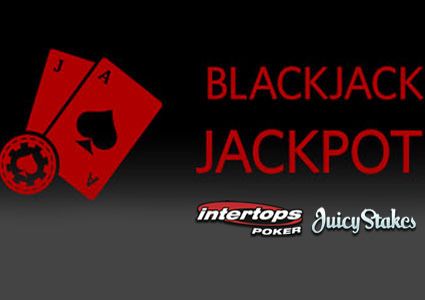 October 13, 2015 — St. Johns, Antigua (Press Release) – Blackjack players at Juicy Stakes Poker and Intertops Poker can win Blackjack Jackpots up to $1000 by being dealt one of three special Blackjack hands. Two or more natural Blackjacks wins a $40 prize. Lucky 7s – a Blackjack with three sevens – wins $100 extra. A "Big Suite" is Ace-2-3-4-5-6 (in any order) and that pays $1000.

Players can choose any of the Blackjack games in the casino section of the poker rooms: Blackjack, Face Up 21, Double Draw or Perfect Pair. (Games in Intertops' main casino are not included). Blackjack Jackpots are available until October 31st, 2015 only.

<iframe class="tscplayer_inline" name="tsc_player" src="http://www.lyceummedia.com/streak/151013/151013_player.html" width="640" height="360" scrolling="no" frameborder="0" webkitallowfullscreen mozallowfullscreen allowfullscreen></iframe>

"Funny, I've been playing poker here for quite awhile but I've never even noticed that little 'casino' button up top!" laughed one regular player. "I only saw it when they did a free Roulette offer a few weeks ago."

"I prefer a game that relies more on skill," said another poker player. "But Blackjack is easy -- it can be a nice break once in awhile."

Juicy Stakes and Intertops Poker are the two busiest poker rooms on the Revolution Poker Network. Their poker tables attract players at all skill levels, from all over the world. This month they're hosting an online satellite tournament series that will send the champion to compete in the WPT National in Venice in December. Next month, winners of other online satellite tournaments will play in the $500K CPT Punta Cana. Tournament winners share their online and live tournament experiences in the Living the Dream poker blog (Living the Dream).


Check out our Online Poker site for more.
<!-- Affiliate Code Do NOT Modify--><a href="http://affiliate.intertops.com/processing/clickthrgh.asp?btag=a_48b_3022" ><img src="http://affiliate.intertops.com/processing/impressions.asp?btag=a_48b_3022" alt="26-Day Endurance Challenge at Intertops!" style="border:none; width:468px; height:60px; "/></a><!-- End affiliate Code-->
<a href="http://www.juicystakes.eu/?t=29646&Lang=en"><img style="border: none;" src="http://affiliates.juicystakes.eu/Server/Banner.ashx?i=ban_pk_js_468x60.gif&t=bonustreak" alt="Deposit Bonus 200% up to $1000"/></a>
​