Free Bingo at William Hill Bingo

All day you can play bingo for free on the hour, every hour in the Bargain Basement and there's over £1,000 in prizes to be won! Each free game now also features Roll On Bingo with seven more chances to win after Full House is called.


Free games from 9am to 6pm have a fantastic £50 prize and games from 7pm to midnight pay out a super £100 prize.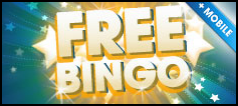 £50 games pay: 1 line £5, 2 lines £5, Full House £5 and the following seven Roll On Bingo prizes each pay £5
£100 games pay: 1 line £10, 2 lines £10, Full House £10 and the following seven Roll On Bingo prizes each pay £10


Come and play Bingo in the Bargain Basement on Thursdays, and play for FREE!


Terms & Conditions apply

​