Freaky Friday at Yahoo Bingo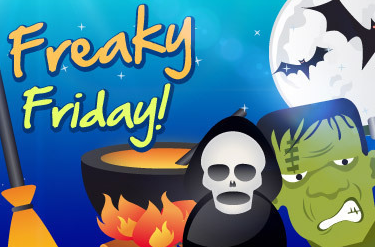 Halloween is drawing near and we're freaking out in Bingo Party Live! Join us for plenty of tricking and treating as we haunt the night with our spooky banter and laughter. Don't forget to join our Facebook fan page and enter the Pumpkin Carving contest, our presenters will guide you through what you have to do. THREE fang-tastic Halloween sweeties' hampers will be won by three lucky players. The

deadline for entries is 27th October

by midday.

Our spooky schedule also includes one themed pattern Bingo Game per hour that can be played every Friday in Bingo Party Live from 5pm – 11pm, before and during the show!



There's also a Trick or Treat involved…


Trick: If you buy 30 tickets, you get 30 free! Tickets only cost 2p each and the more tickets are bought on these games, the bigger the prize amount will be!
Treat: The spookiest treat of all… Three of the worst tickets will receive their money back as consolation. You just need to have one of the worst tickets.




Our special Chat Games for this session:



Beat The Bite
The host will select 3 numbers. All you need to do is pick 3 different numbers; if all 3 of your numbers come up claim ***VAMPIRE*** to win.

Witch Hunt
All you need to do is pick which number will be the 31st call of the game. If you get it right, claim ***WITCH HUNT*** to win.

Pumpkin Carving
Choose the first number of a column on the board; each column represents a pumpkin. The first to completely carve their pumpkin (when all numbers in that column have been called) is the winner. The second column to be completed is the runner up. Players have 15 pumpkins to choose from. Only one Pumpkin will be allowed per player. You do not have to claim when all the numbers are called – the CM will announce the winner. If there is more than one winner, the prize will be shared amongst them.
Check out our
Online Bingo
for more offers
​