Adventure Jack Video Slot At Viking Slots Casino (Neo Games)


Adventure Jack is a 5 reel 20 payline video slot at Viking Slots Casino,
the software is powered by Neo Games. At first look I felt the online
video slot was a bit on the bland side for my taste, but after playing
it for some time, I must admit the bonus came up fairly regularly.
The Wild symbol which is the skull, substitutes for all symbols except
the scatter symbols, and can multiply randomly any wins by 2, 5 or
10 times. All wins pay from left to right.



Three or more of the scatter symbols will multiply the total bets, three
will give 5 times, four gives twenty times and the five will give a very
big 500 times!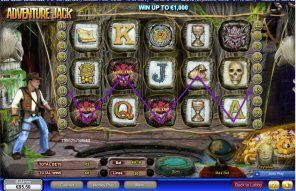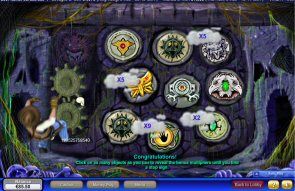 Three bonus symbols trigger the bonus round, players are taken to
a new screen and asked to choose images which reveal cash prizes
until the word stop appears.

The Viking Slots Welcome Bonus for new players is 100%
bonus on the first deposit up to €200. Existing players
have promotions such as Cash Prize and Raffles.

<!-- Affiliate Code Do NOT Modify--><OBJECT id="affMV500" classid="clsid
27CDB6E-AE6D-11cf-96B8-444553540000" codebase="http://download.macromedia.com/pub/shockwave/cabs/flash/swflash.cab#version=6,0,40,0" width="468" height="60" ><param name="movie" value="http://partners.crazyrewards.com/processing/impressions.asp?btag=a_719b_500"><param name="allowScriptAccess" value="always"><param name="flashvars" value="creativeURL=http://partners.crazyrewards.com/processing/clickthrgh.asp?btag=a_719b_500"><embed src="http://partners.crazyrewards.com/processing/impressions.asp?btag=a_719b_500" width="468" height="60" allowScriptAccess="always" NAME="AffMV500" ALIGN="" TYPE="application/x-shockwave-flash" PLUGINSPAGE="http://www.macromedia.com/go/getflashplayer" flashvars="creativeURL=http://partners.crazyrewards.com/processing/clickthrgh.asp?btag=a_719b_500"></embed></object><!-- End affiliate Code-->
​
Last edited: