$15,000 Win on 'Funny Moolah' Slot is No Laughing Matter for Lincoln Casino Player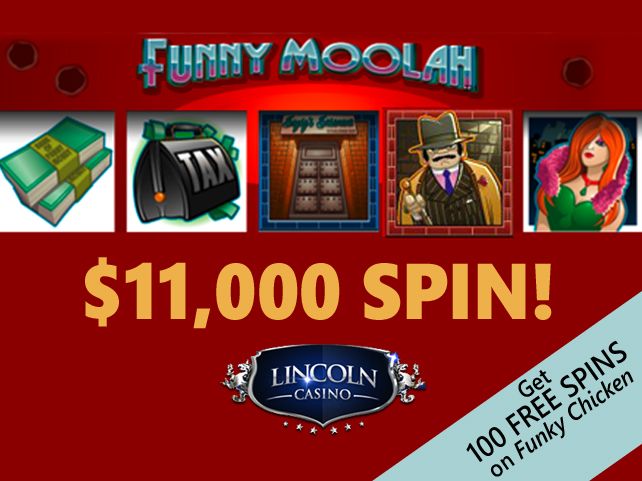 August 10, 2015 (Press Release) – Last week a Lincoln Casino player had no sooner sat down for a relaxing evening of slots when he hit big on the
online casino's Funny Moolah slot. Shortly after making his usual small deposit, Mark W. of Virginia had won nearly $15,000.

Funny Moolah is a five-reel, 25-payline slot game from WGS set in prohibition-era Chicago. The goal is to win some of the big boss man's pile of loot.

After only six spins, betting 20 cents per line across the game's 25 pay-lines, Mark hit the Free Games feature which immediately added a multiplier of 7x to the next ten free games. The first spin of the free games resulted in five Headline symbols on two different pay-lines delivering $140 each, as well as five Gangster's Moll symbols on a third winning pay-line. The total payout was 8000x the triggering bet, plus the 7x free game multiplier. This one spin paid out $11,480.

"There's nothing funny about this moolah" Mark said after his massive win on a $5 spin.

The next spin triggered the game's Boss Man bonus feature where he got to pick from a selection of piles of loot. This game added another $1150 to Mark's pile of winnings.

"I only signed up at Lincoln Casino in April and I hadn't played there much, to be honest" said Mark when congratulated on his win. "I like the match bonuses they offer so when I do play it's on Thursday or Saturday. I think I'd only played there about five or six times".

<iframe class="tscplayer_inline" name="tsc_player" src="https://secure1.securewebexchange.com/lyceummedia.com/streak/160811/160811_player.html" width="640" height="360" scrolling="no" frameborder="0" webkitallowfullscreen mozallowfullscreen allowfullscreen></iframe>

"You can&#8217;t win, if you don&#8217;t play, isn't that the saying?" Mark continued. "I didn't expect this, especially since I'd only just sat down! I was hoping for a few hours entertainment but when I won immediately I just cashed out right away. Like the man says 'Know when to run'!"

"We're very happy for Mark" said Ryan Wilson, Casino Manager at Lincoln Casino, "It's always great to see someone get really lucky -- of course we hope he tells all his friends about us!"

Lincoln Casino is currently offering a 200% deposit bonus, plus 100 spins on its popular Funky Chicken slot game (coupon code: CHICKENSPINS).

​
Last edited by a moderator: