*
*
Make it onto Intertops Casino´s Rock & Roll leaderbord and WIN BIG with Intertops Casino

Intertops Casino is powered by RTG.




<!-- Affiliate Code Do NOT Modify-->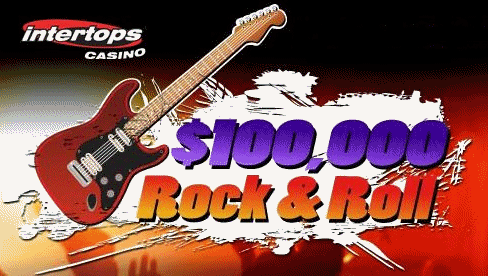 <!-- End affiliate Code-->​



Play your favorite games all week and a bonus could be yours.

Check the leaderboard and find your place, your potential prize amount
and your previous week's place. Click the Prize Table to find out what
bonus you're eligible for.

Be sure to place in the leaderboard's weekly top 15 during the promotion!
At the promotion's end, ONE LUCKY PLAYER from all top 15 weekly players
will receive a $1,000 cash prize!


How do I progress on the leaderboard?




Deposit a minimum of $75 per week to qualify
For every $100 wagered, receive 1 point
Prizes are awarded on a weekly basis and points are reset every week
LOCATE your progress! Enter your Account Name and click FIND ME! Check daily to find your place and potential bonus earned!
CHECK your final place on the leaderboard every Monday and find out how much you've earned!
Plus, CHECK your emails every Thursday to find out if you've been awarded a free bonus!
<!-- Affiliate Code Do NOT Modify-->
<!-- End affiliate Code-->​
Last edited by a moderator: